I've been neglectful in posting trip reports here also. This is one from the first week in July that I posted on another site. It was the first backpacking trip with just me and my grandson. It turned out to be very special for both of us.
I had planned on going to 20 Lakes Basin for my first backpacking trip with just my youngest grandson and myself but that didn't work out. We stopped in Lone Pine and P/U a permit and headed for Mosquito Flats. David was so excited as we loaded our packs on our backs it was starting to rub off on me also. I warned him that he was going to get hot and tired and probably regret the hike by the time we got to Chickenfoot but to trust me it would be worth it. I was right, by the time we got there he said that this was stupid and no one could enjoy anything that involved backpacking.
Mandatory shot just a little before Long Lake.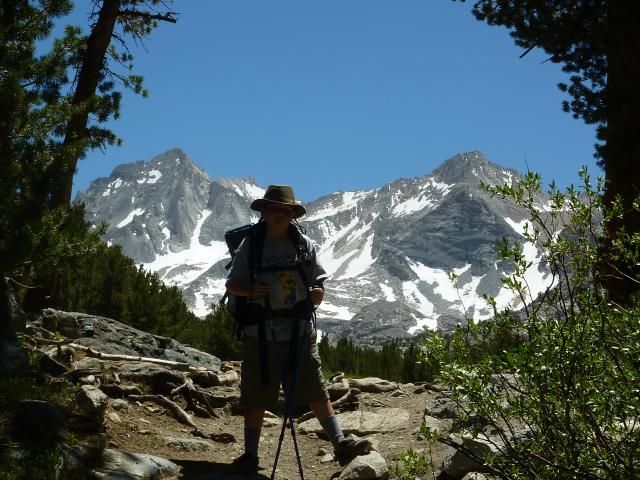 Since David was so tired we just did a short walk along the shore near camp then ate and called it a night.
From our camp site above Chickenfoot Lake
Chickenfoot Lake
When I got layed off from my job in April I decided that after working for the company for 14yrs I would use the severance pay to take the summer off and enjoy life a little before trying to go back to work. As many of you might guess my wife is less than enthusiastic but understanding and thus "The Summer of Gary" began. You may see the shirt in a few more reports before the summer is over. It was a gift from a friend. The wife didn't allow a JMT thru hike like I had hoped for but so far I've been on 3 backpacking trips and 2 car camping trips.
Wednesday we got up late and I fished a little for a few small Rainbows while David goofed around. After fishing we decided to hike up to Gem Lakes.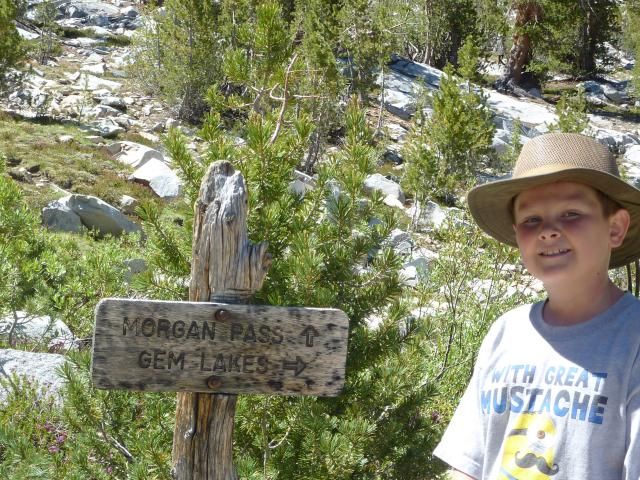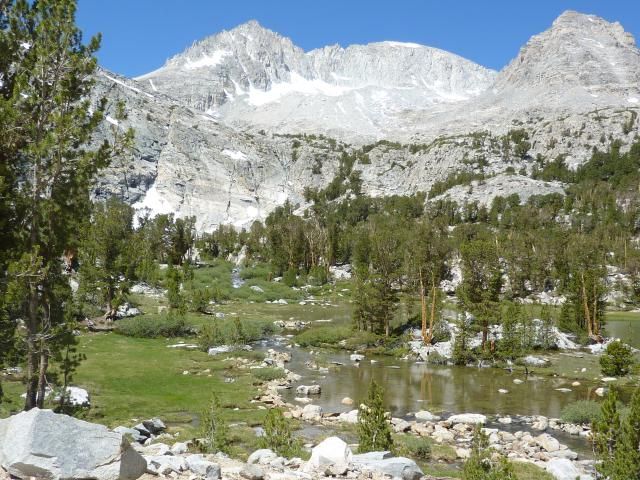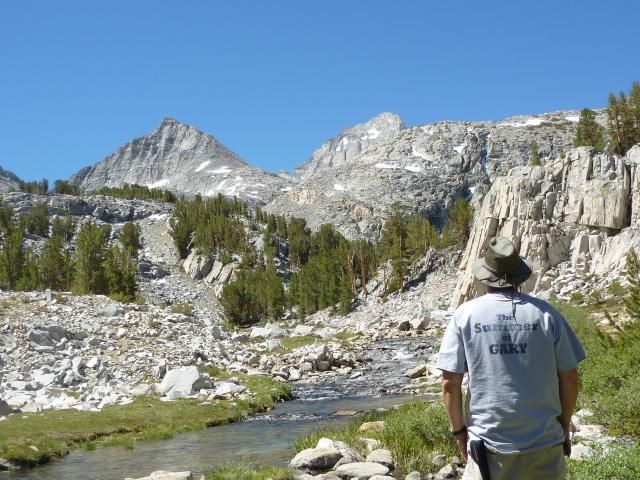 That evening after the sun dropped below the mountain and the lake looked like glass the evening rise got started. The entire lake looked liked a boiling pot of water with all of the fish rising. I didn't even bring David's spinning rod down to the water, we shared my fly rod. With a lot of help from Opa David landed his first three trout on a fly rod, all Brookies. I managed several on my own but for some reason most of mine were Rainbows.
David's first fish on a fly rod. His older Brother caught his first fish on a fly rod at Long Lake in 2007.
One of mine.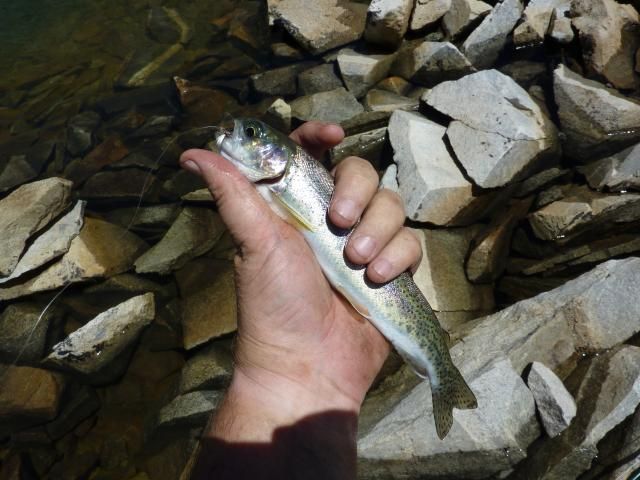 Box Lake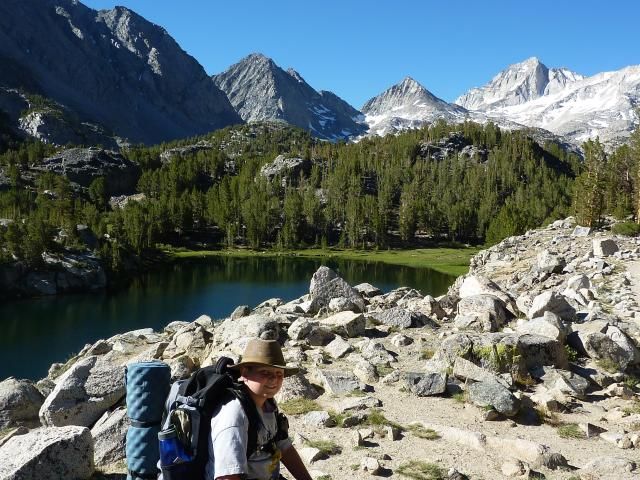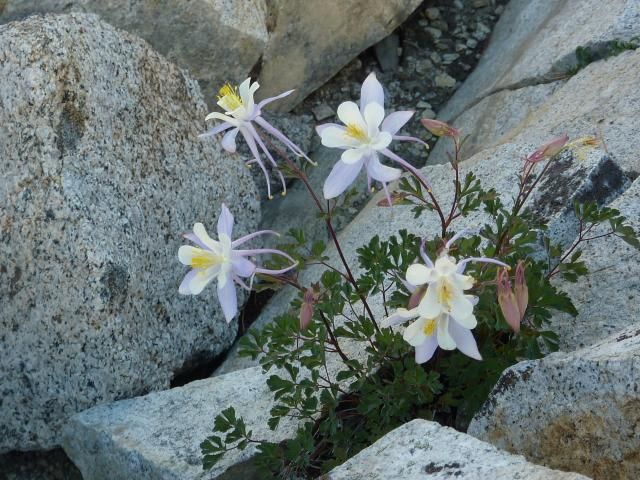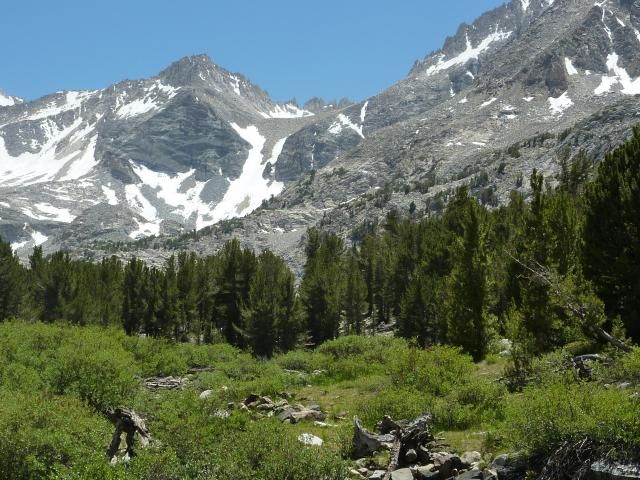 Thursday morning I was woke up by something snooping around in my backpack. I unzipped the tent and looked out to find a bear with his head stuck in my pack up to his ears. I yelled at him to get away a few times and he could have cared less, he just looked up and stared at me. He was about 8-10ft in front of my tent. He started to look in my pack some more so I P/U a water bottle and threw it at him. It hit him in the shoulder and he finally turned around and left, you couldn't even hear him walk away. He was a cinnamon colored bear about 250lbs.
I guess David finally came around to understanding why people work so hard backpacking and that it is worth all the effort. Wednesday night in the tent while we were going to sleep he asked me if even if it was a couple weeks early could we call this trip his birthday present because he was having such a good time.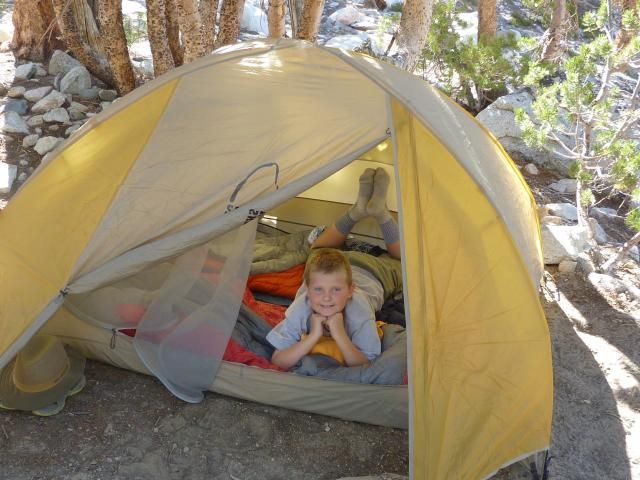 I just might have a new shadow following me around the high country in a couple years.