Emigrant Wilderness Aug 15-21, 2020
This year's big hike was into the Emigrant Wilderness. Emigrant Lake to be exact. None of us had been there before but I had heard about the fishing and have kept it on my list for some time. As something else new to us we decided that we would try a spot camp out of the Kennedy Meadows Pack Station. Actually we had planned and booked this trip last year for July but the snow was still too deep so at the last minute we had changed it to a full backpack from Leavitt meadows. This year snow would not be an issue. 2020 had been a dry winter with little snow and we would be in the middle of a heatwave our entire trip.
Kennedy Meadows PS is a little crowded for me but they have a great set up and worked hard to make everything enjoyable for us. We drove in on Saturday and had booked their log cabin which is generally held for pack customers. It's rustic and primitive, has a little loft with a full bed, 4 singles down stairs, fridge, stove, and its own bathroom for a reasonable price.
My wife Debbie and I in front of the cabin.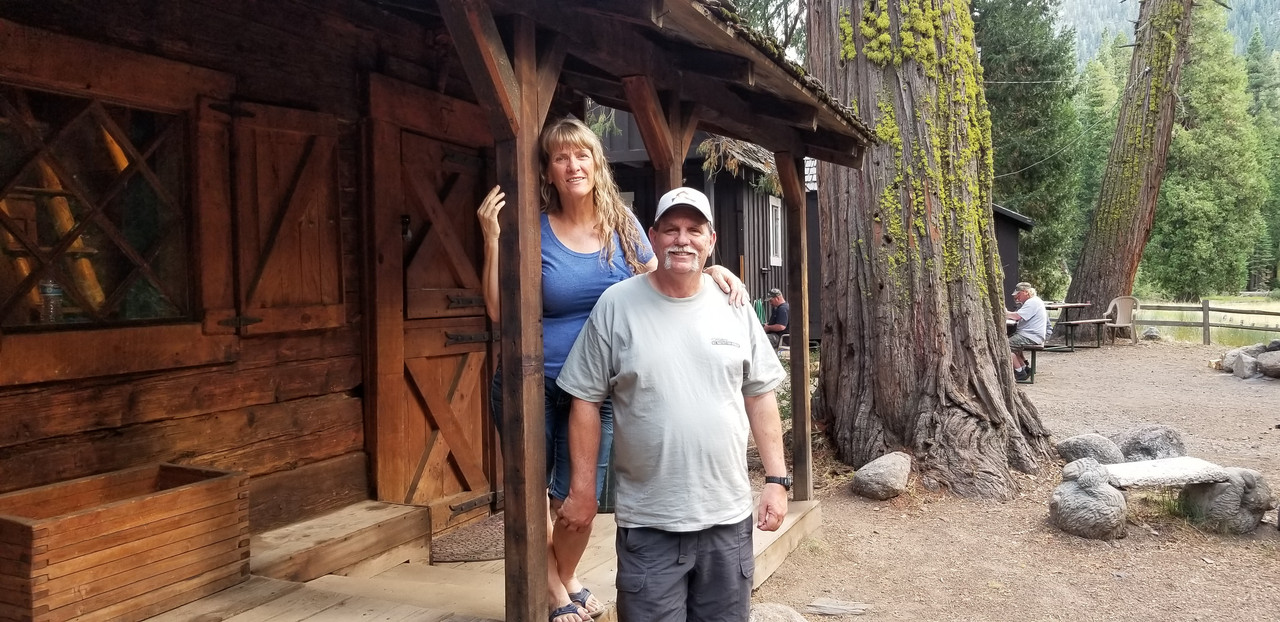 Friend Sherry up in the loft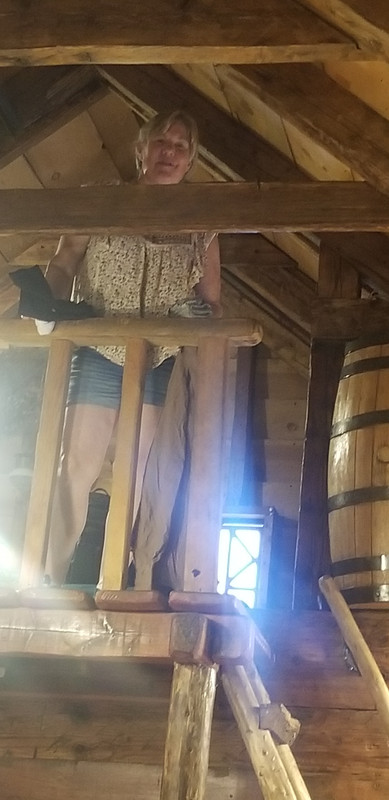 Sunday morning (my 60th birthday) early while our gear was being packed we grabbed breakfast burritos and the six of us were on our way. For whatever reason I was surprised that the area was as arid as it was. One good thing to come from that and this being a drier than normal year was we had no mosquitos. I don't think that I saw 5 the entire week and didn't have a single bite.
The ride in.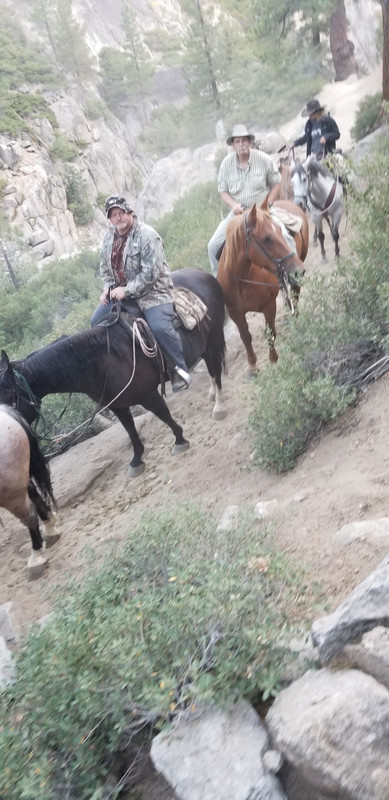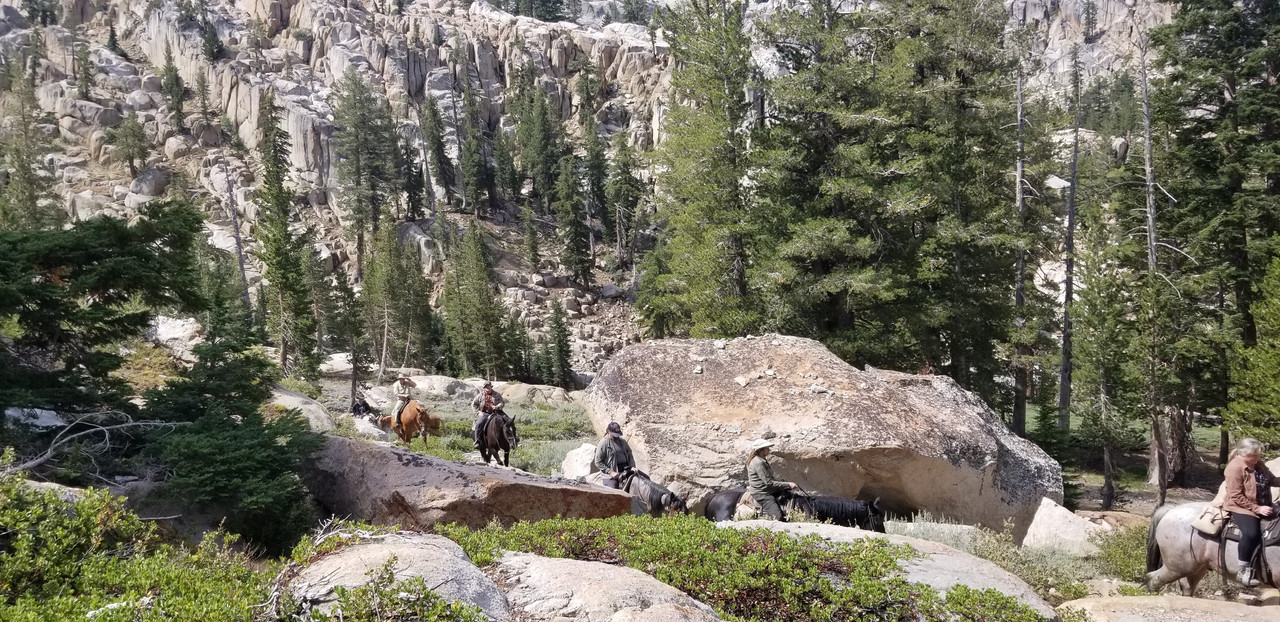 None of us are riders to begin with but we certainly were not ready for a six hour, ruff mountain trail ride. We were all very sore by the time we got to camp. The only real drama we had with the horses came from mine. She was the biggest and best behaved horse of the bunch. Until we got to the top of Mosquito Pass. She had started acting peculiar then right on top of the pass crossing she just went stiff on me and did a straight down buffalo drop. Instantly the wrangler who was right behind me started yelling for me to get my feet out and off the saddle. I was way ahead of her and just cleared the stirrups when my horse rolled over and started kicking her legs out. The wrangler pulled her saddle and after gathering it all together it was decided that they would leave her on top and get us down to camp. After dropping us in camp they took one of the mules who they said was in love with her and left him for the night. When they came bock for them the next day everything was cool and they said that she has a history of colic. We did get a couple of pictures when they dropped us off.
Mike, Debbie, Myself, Sheri, Tania, and Vince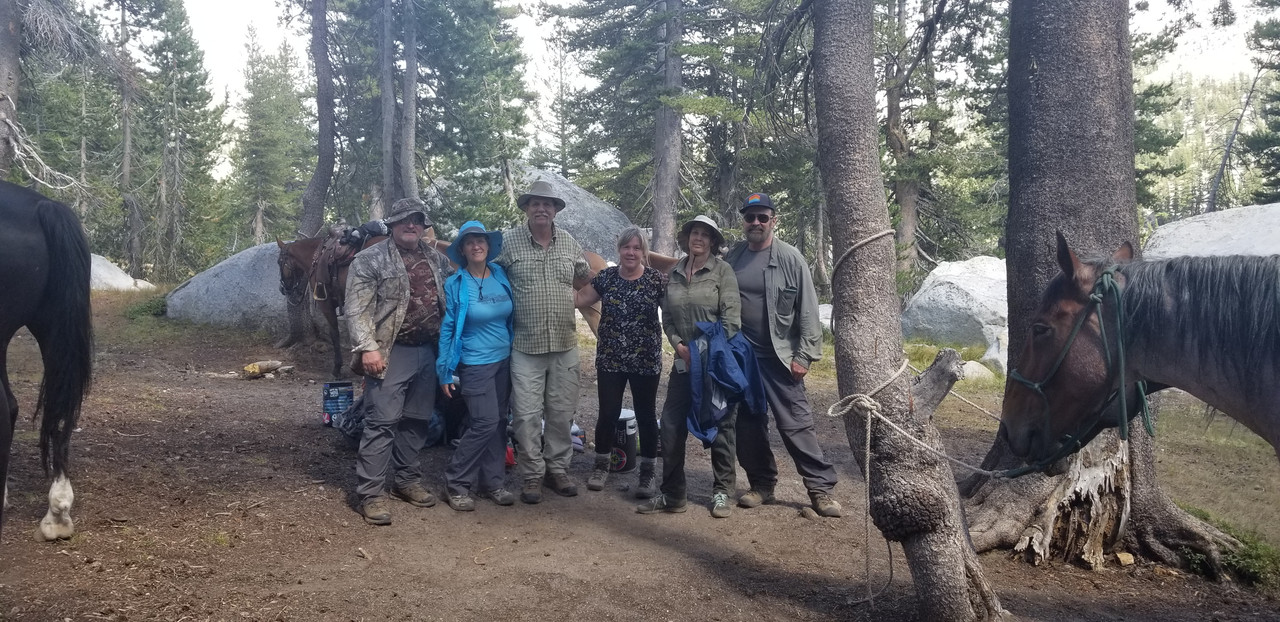 Since it was my birthday my wife took a picture of me with our packers.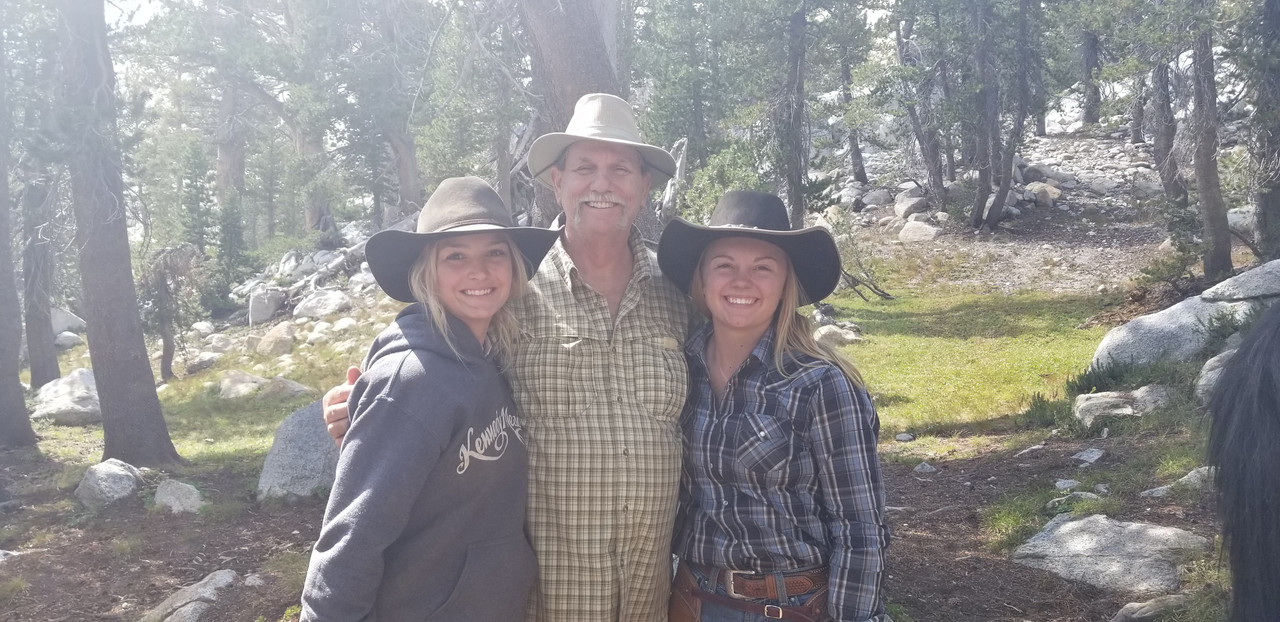 It was a great site, close enough to the water but off of the trail. We sat up camp and started filtering water and complaining about 6 hrs in the saddle. Not sure that I would want to go that route again but it was nice to do something different. It was also nice not to spend 2 days all uphill getting there.
That's the trail just below and between the girls. The lake is on the other side of the trees.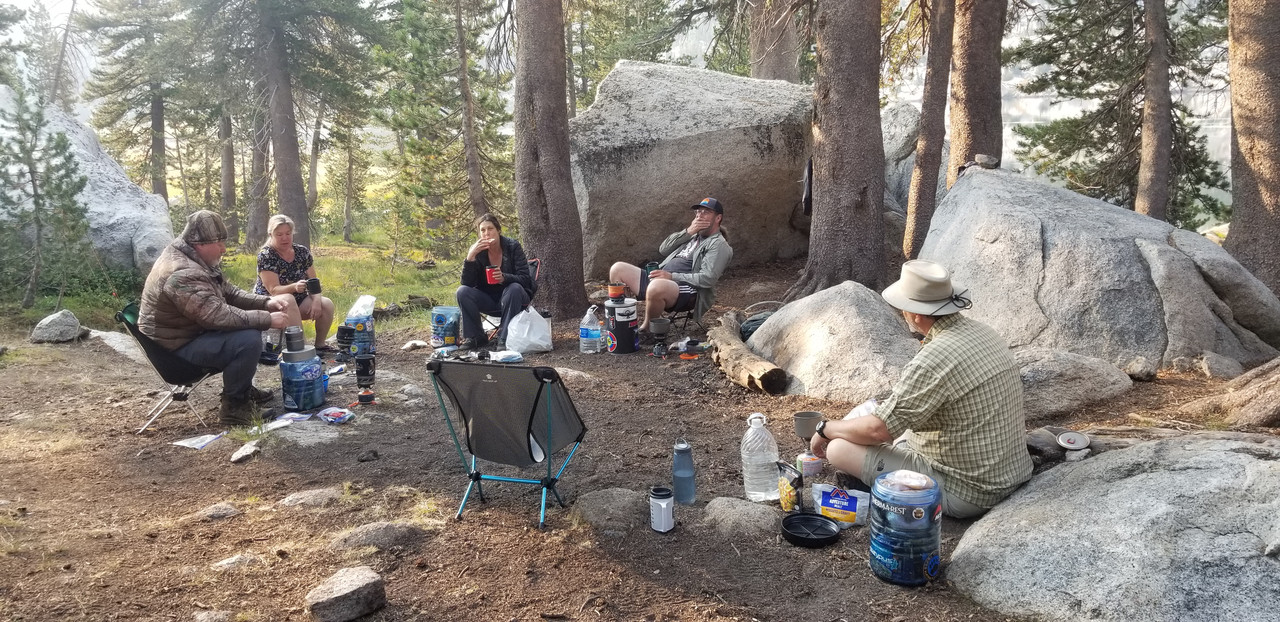 We spent Monday doing some day hiking and fishing. We didn't catch a lot of trout but the size and fight was very nice. I think that the smallest Bow that I caught all week was about12-13".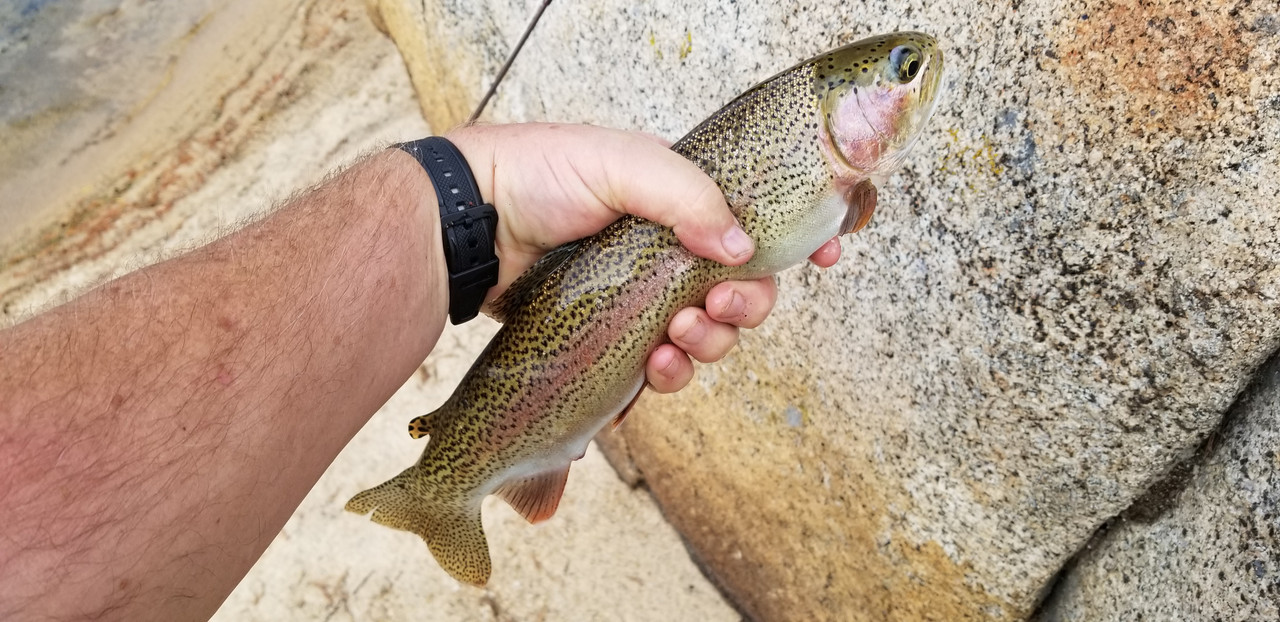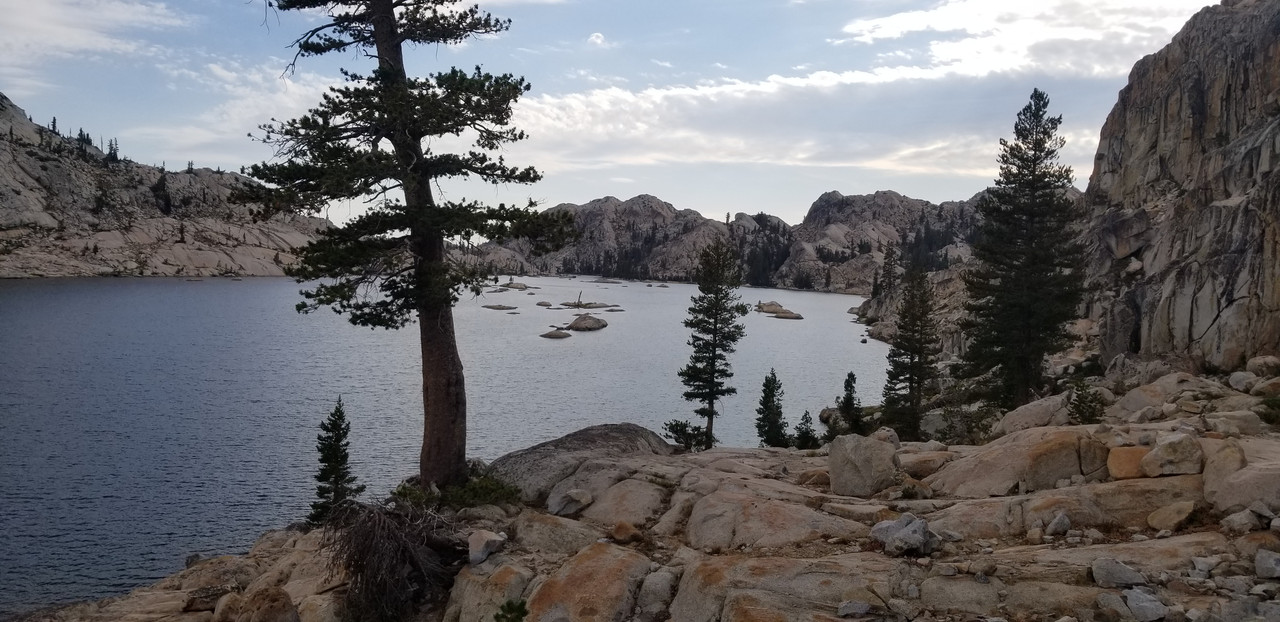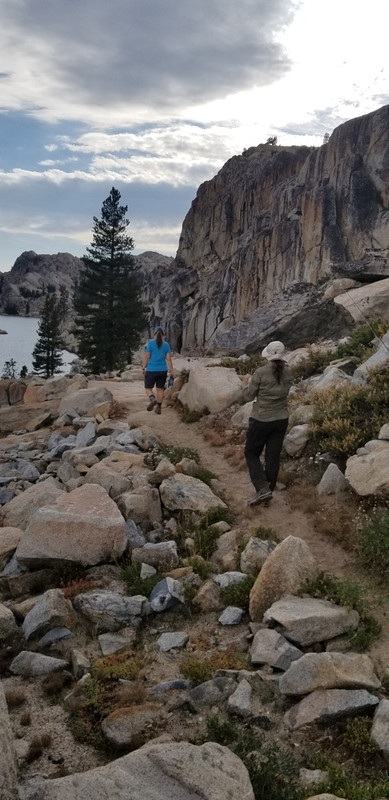 Monday had been really warm all day and we were hoping that it would cool off by the time we planned to pack up and move on Wednesday. The plan was to backpack to Middle Emigrant Lake for at least a night or two then work our way out from there. We would spend the last few days hiking to Emigrant Meadow Lake, over Brown Bear Pass, and on back to the trailhead. Tuesday Morning we woke up to smoke in our little valley. After hearing from others that the fishing was much better where we were and not liking the idea of backpacking in the smoky air we changed plans. We decided to just stay at Emigrant and see if the smoke cleared and maybe hike out back over Mosquito Pass. Mostly smoke filled pictures after that until we got back over the hill and down to Relief Reservoir.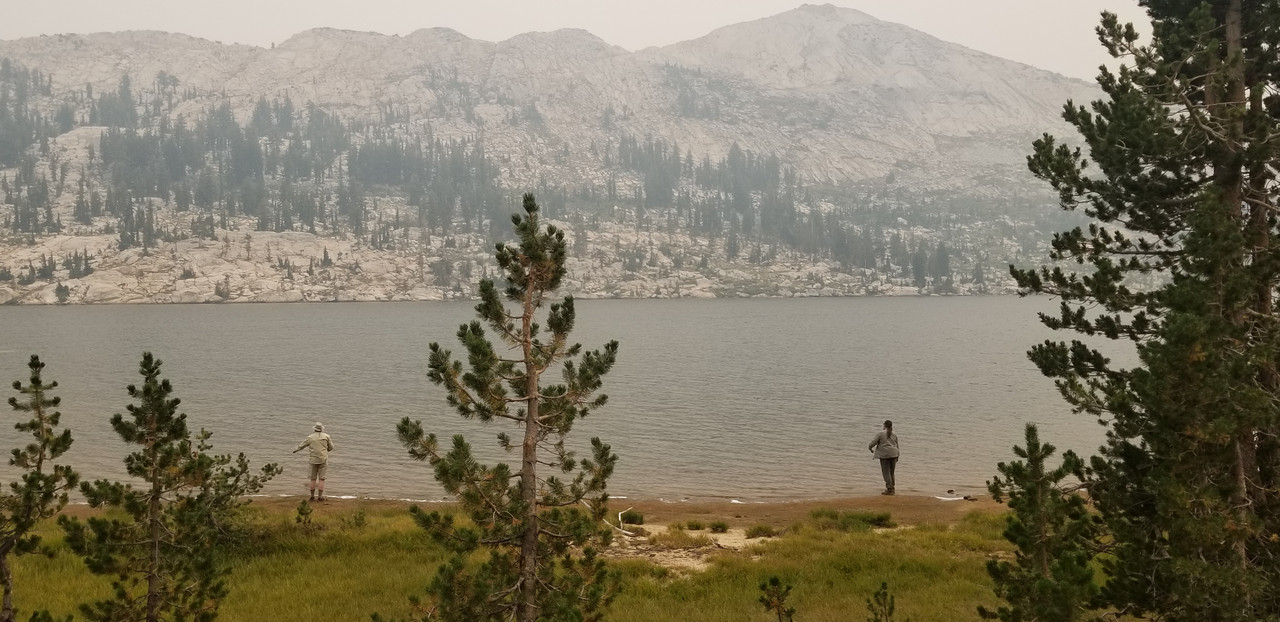 The good thing was that on Tuesday I figured out what worked and we all started catching more fish.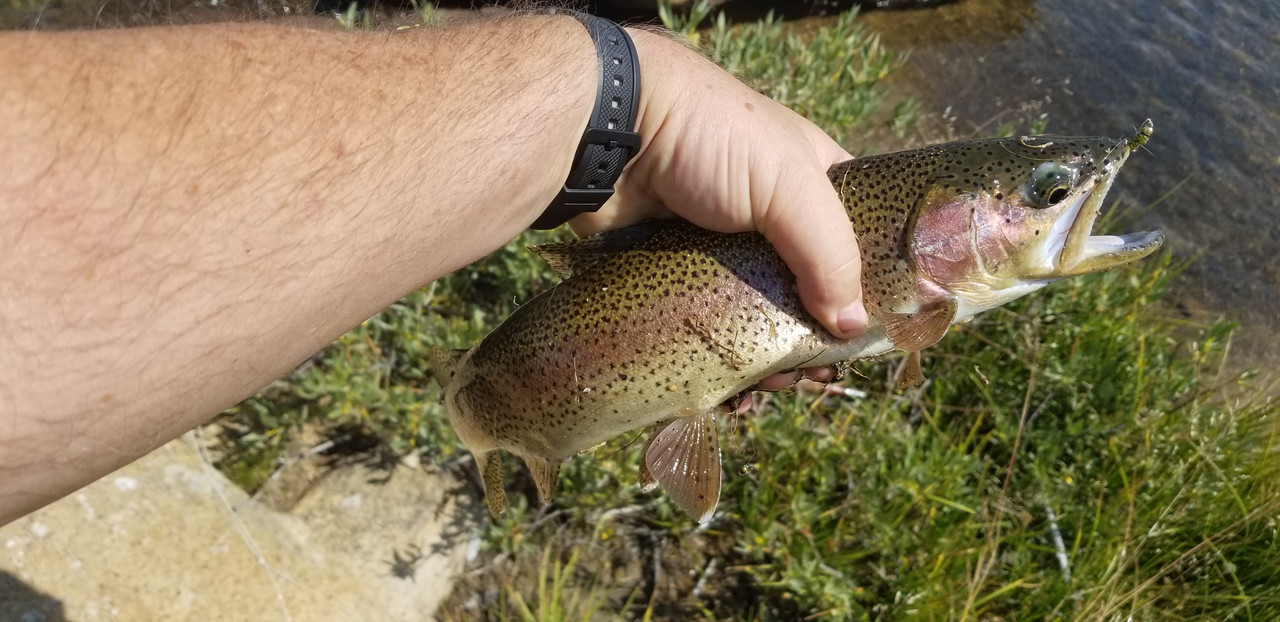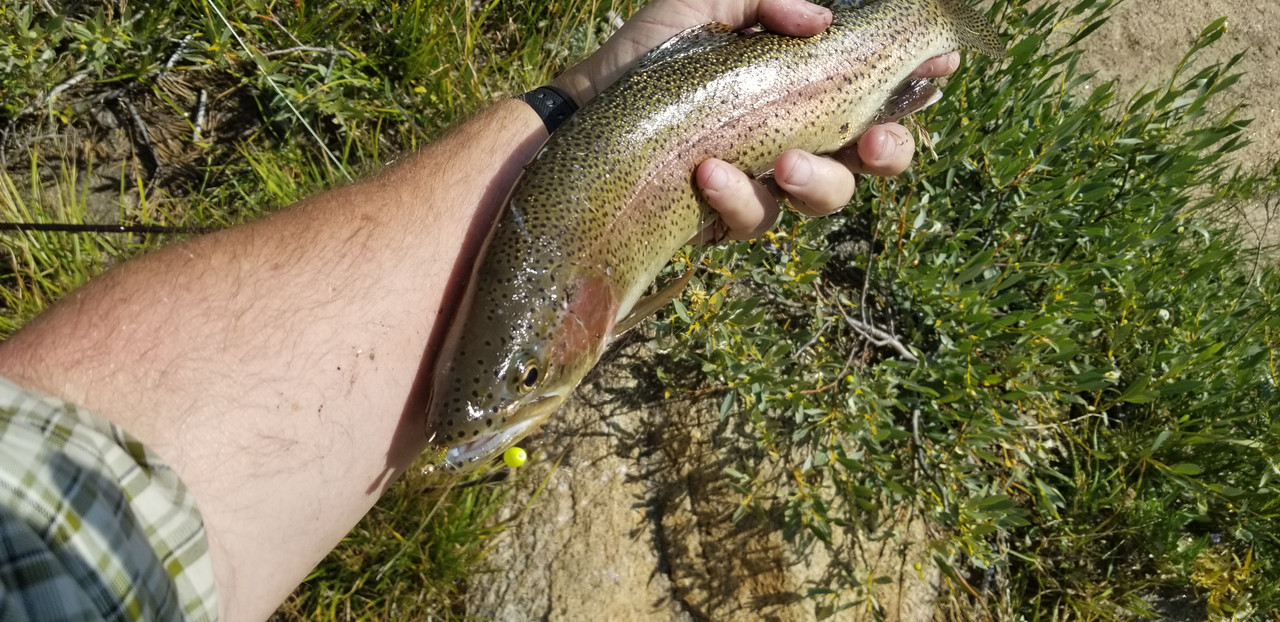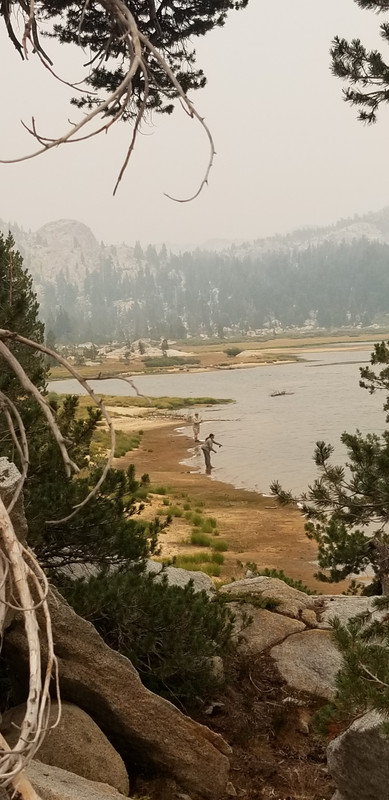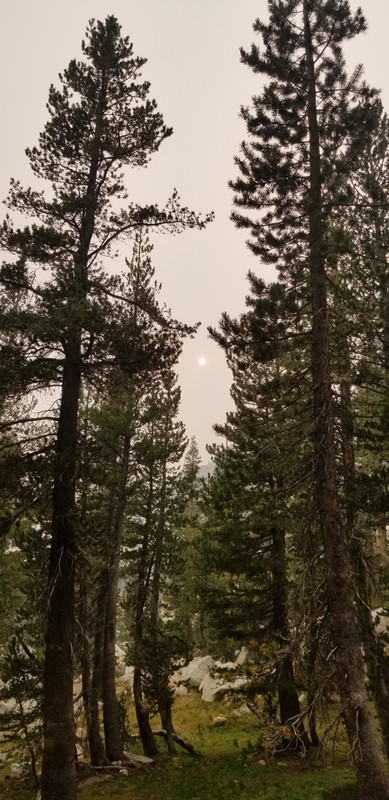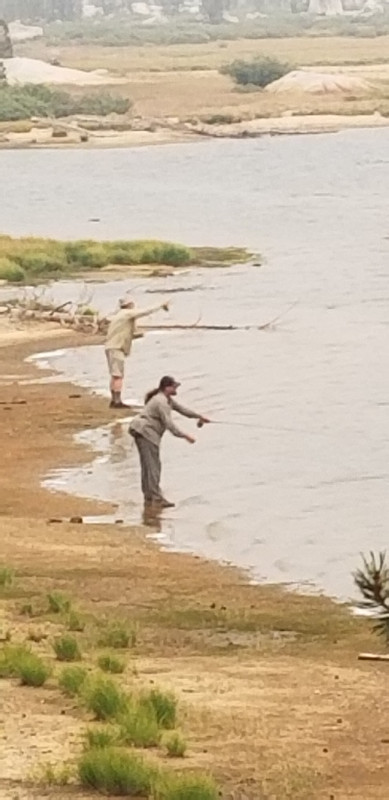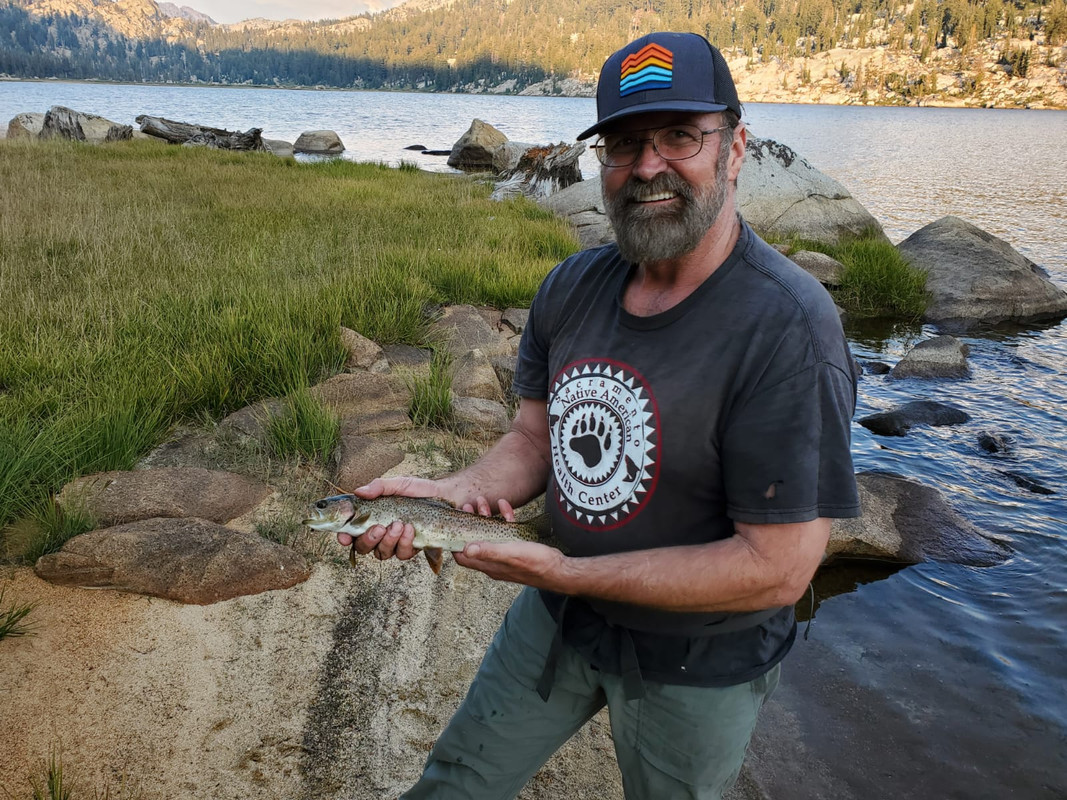 When the smoke hadn't gotten any better by Wednesday night we decided to pack out Thursday morning ahead of schedule.
Going over the top of Mosquito Pass on our way back to Kennedy Meadows.
Break time!!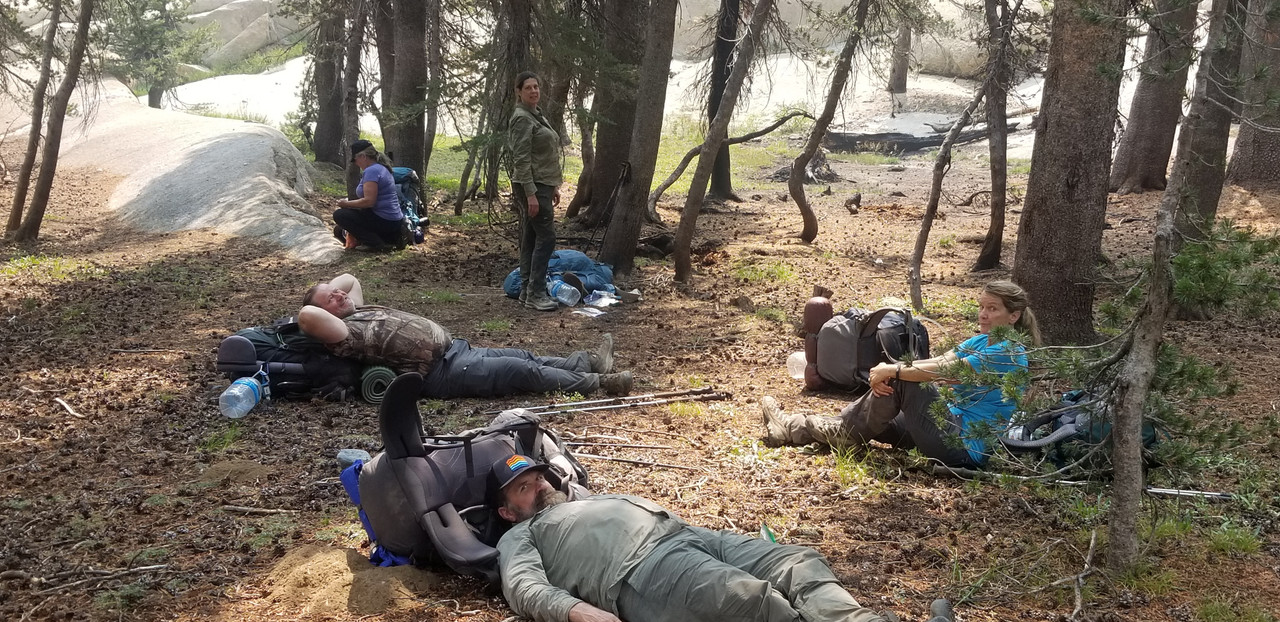 As we dropped in elevation the smoke wasn't near as bad so we decided to take our time. We stopped for a night at Sheep Camp and the last night at Relief Reservoir.
My wife Debbie.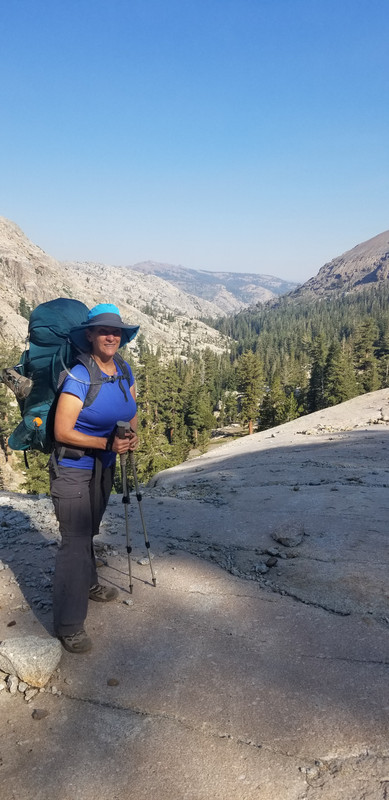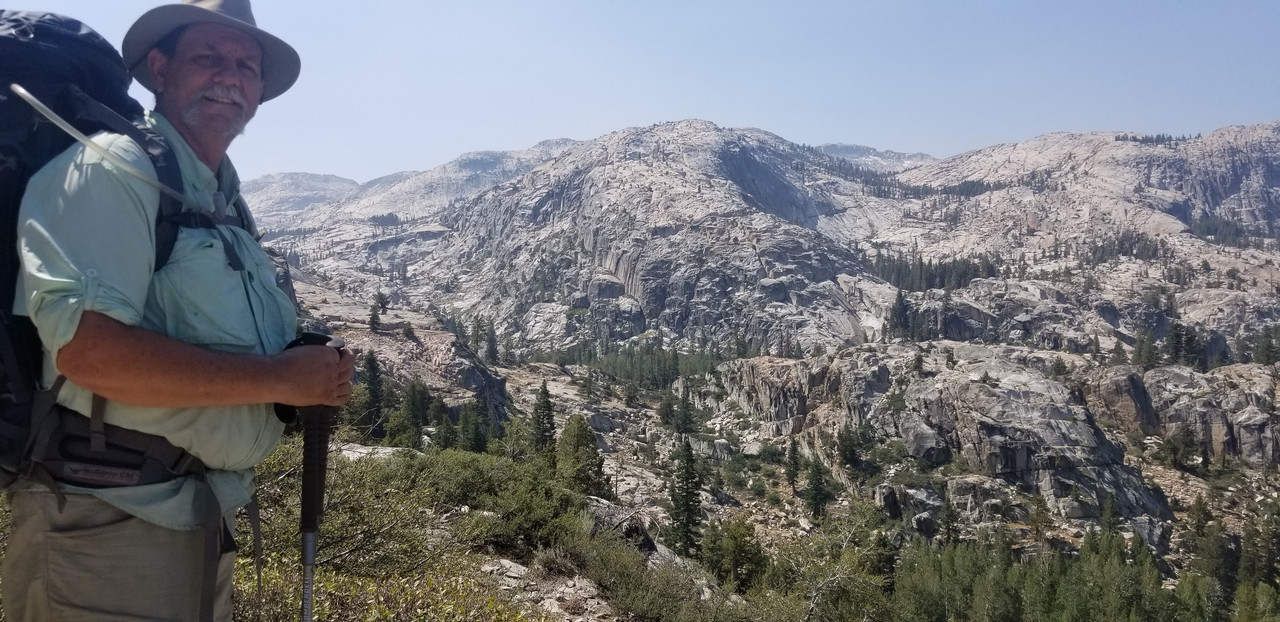 Relief Reservoir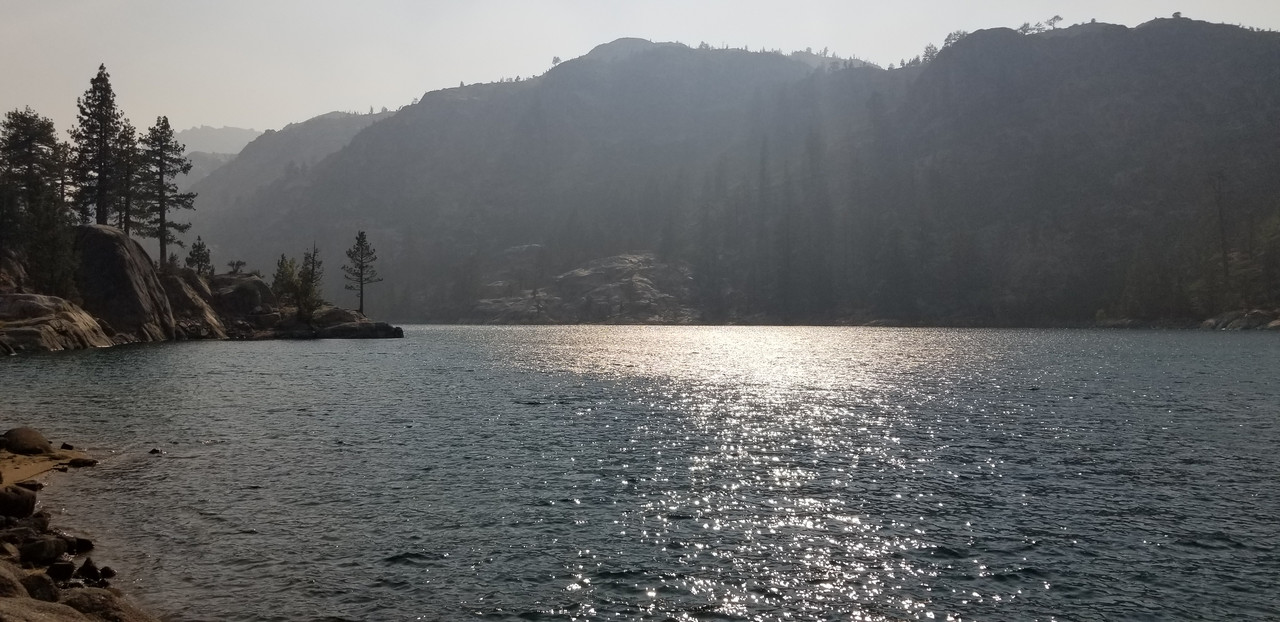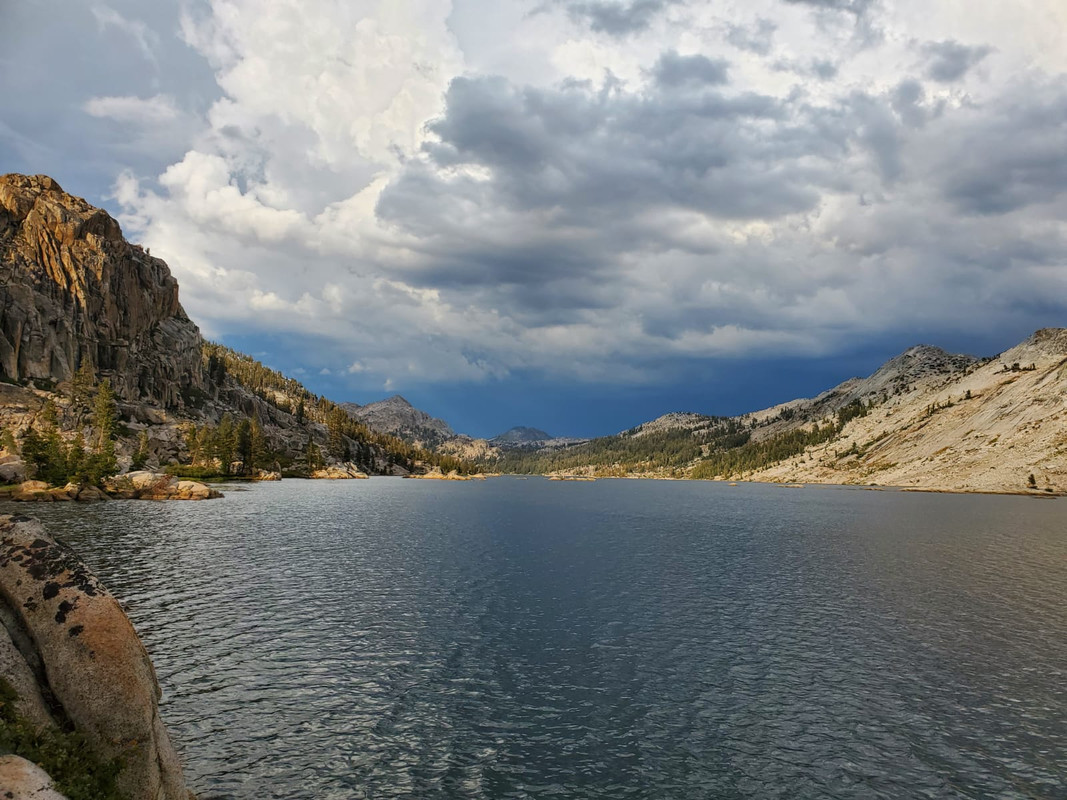 The last miles back into the trailhead.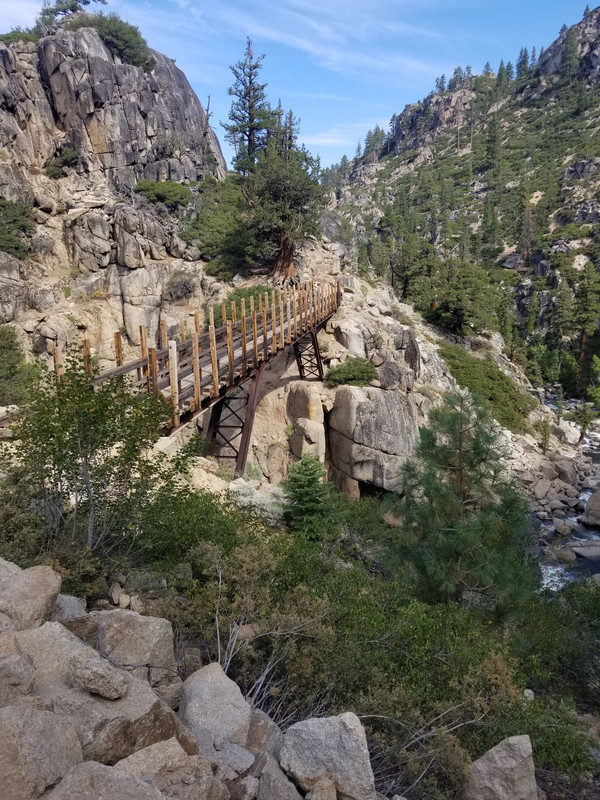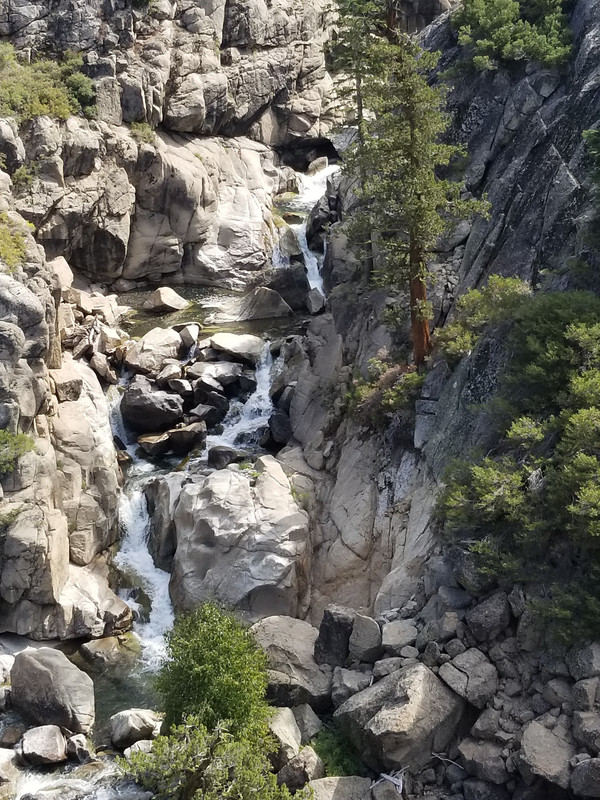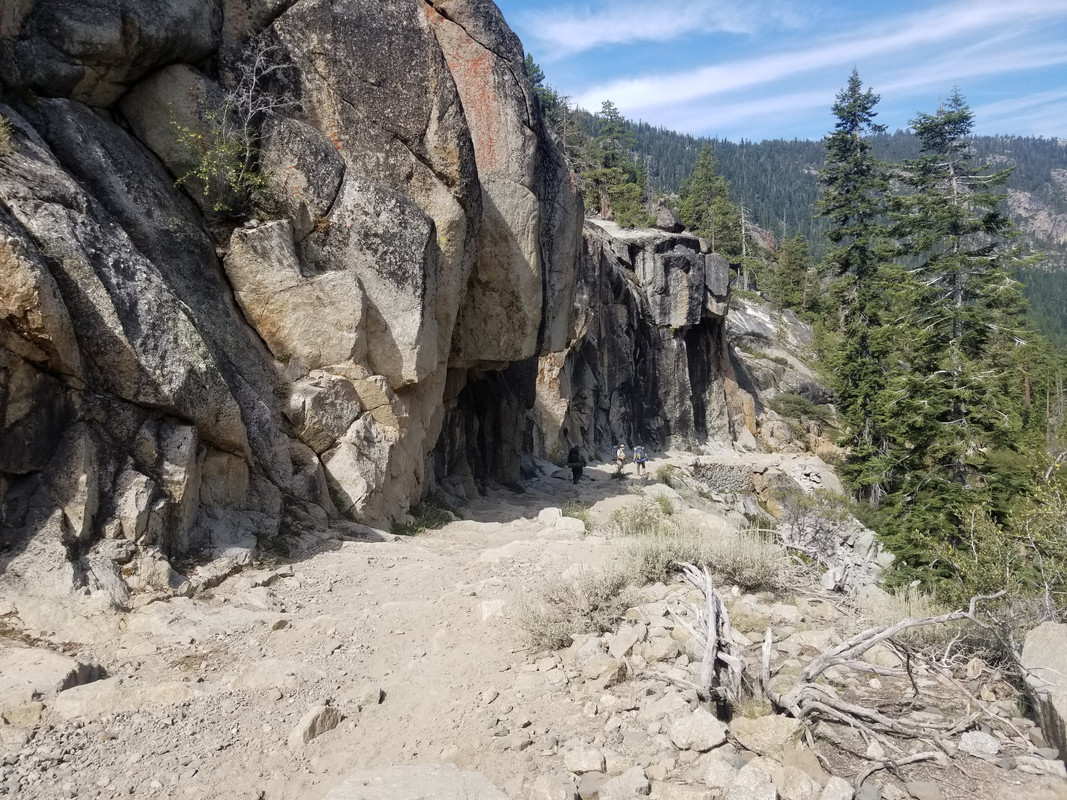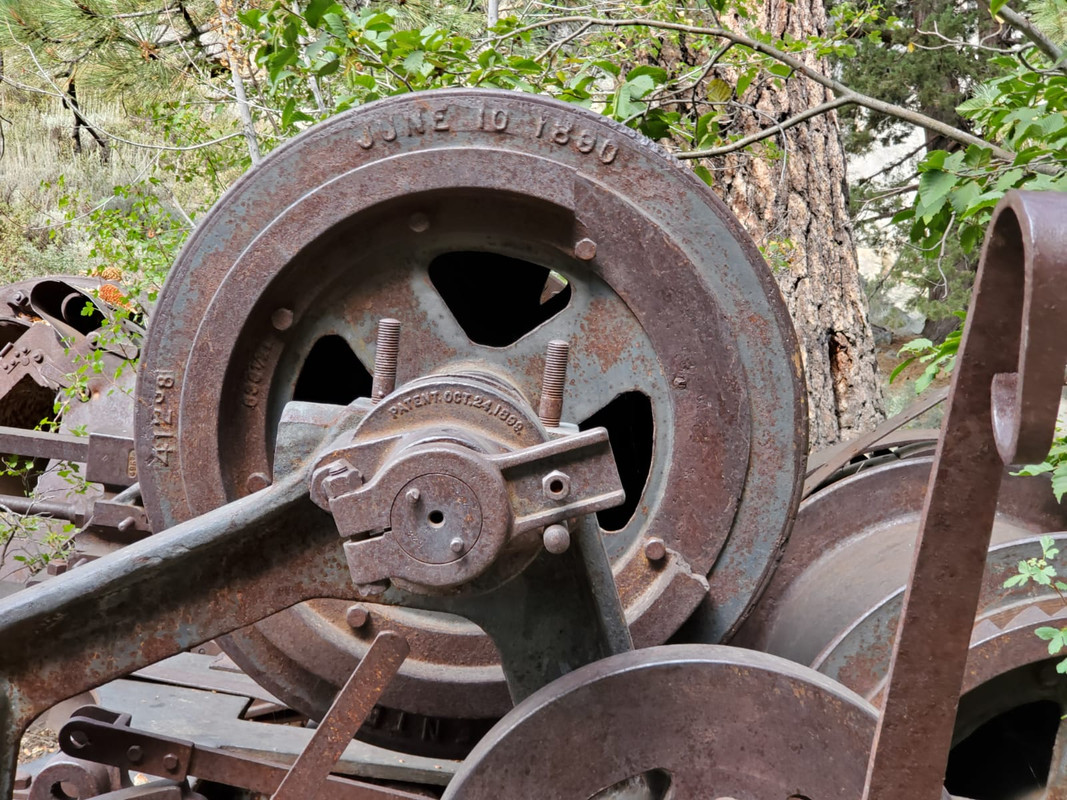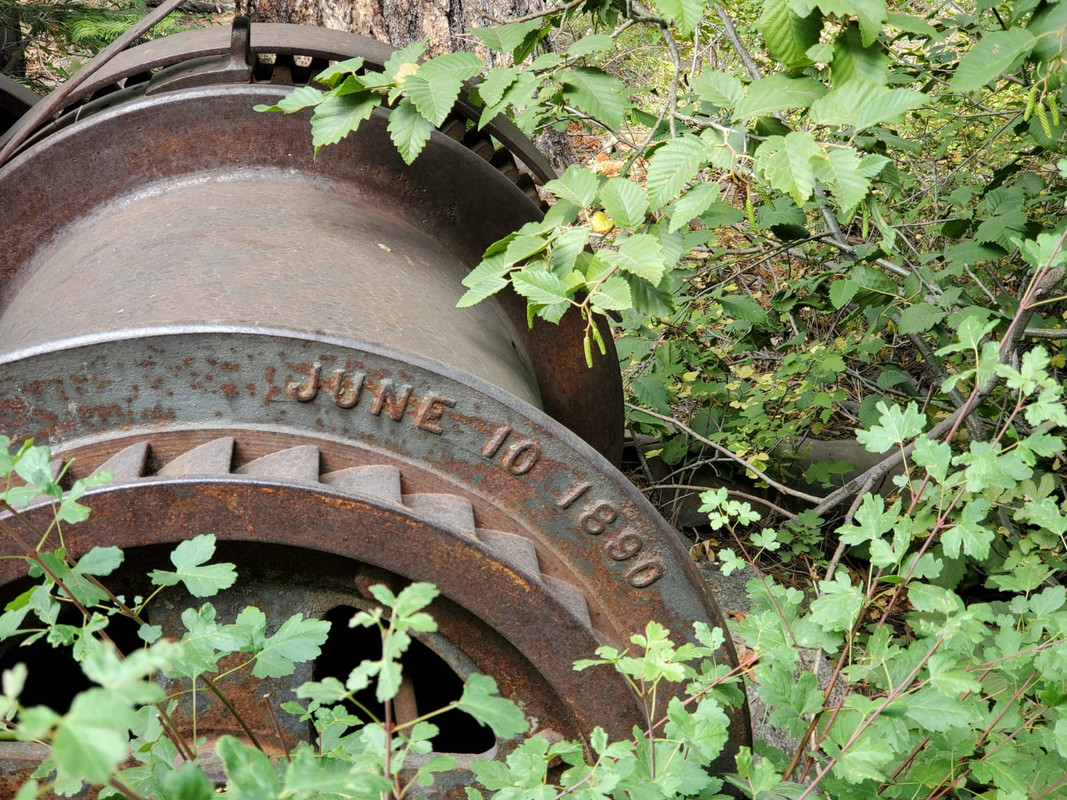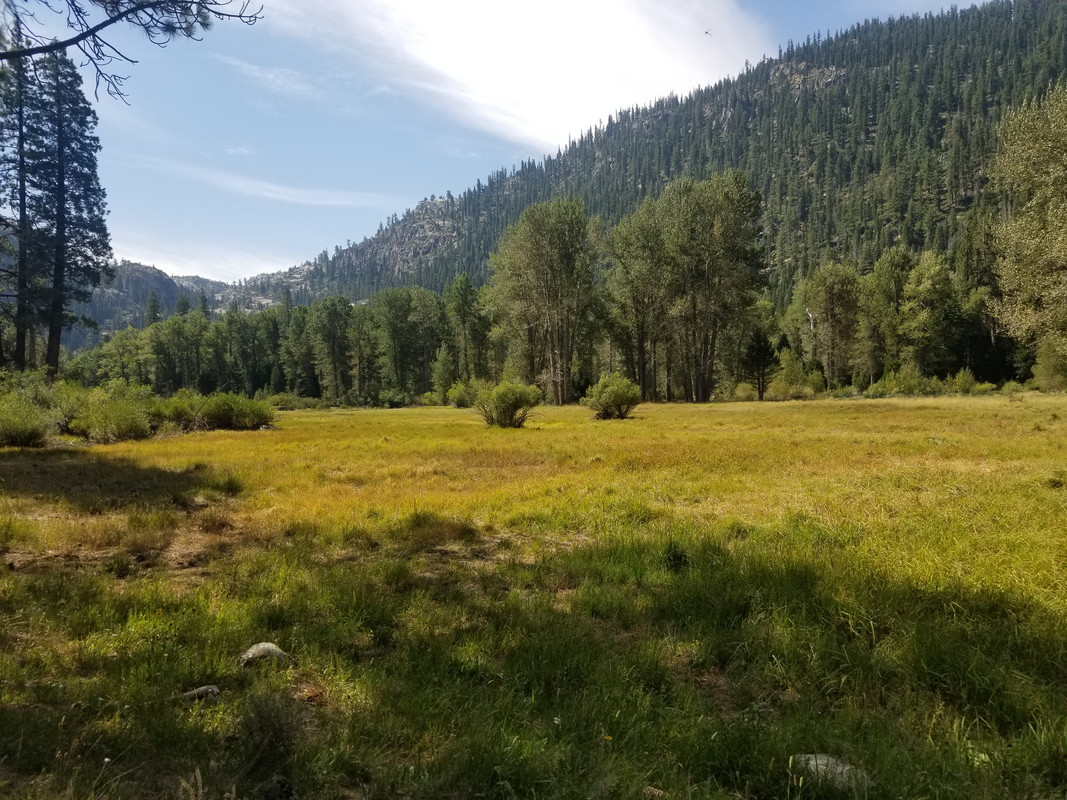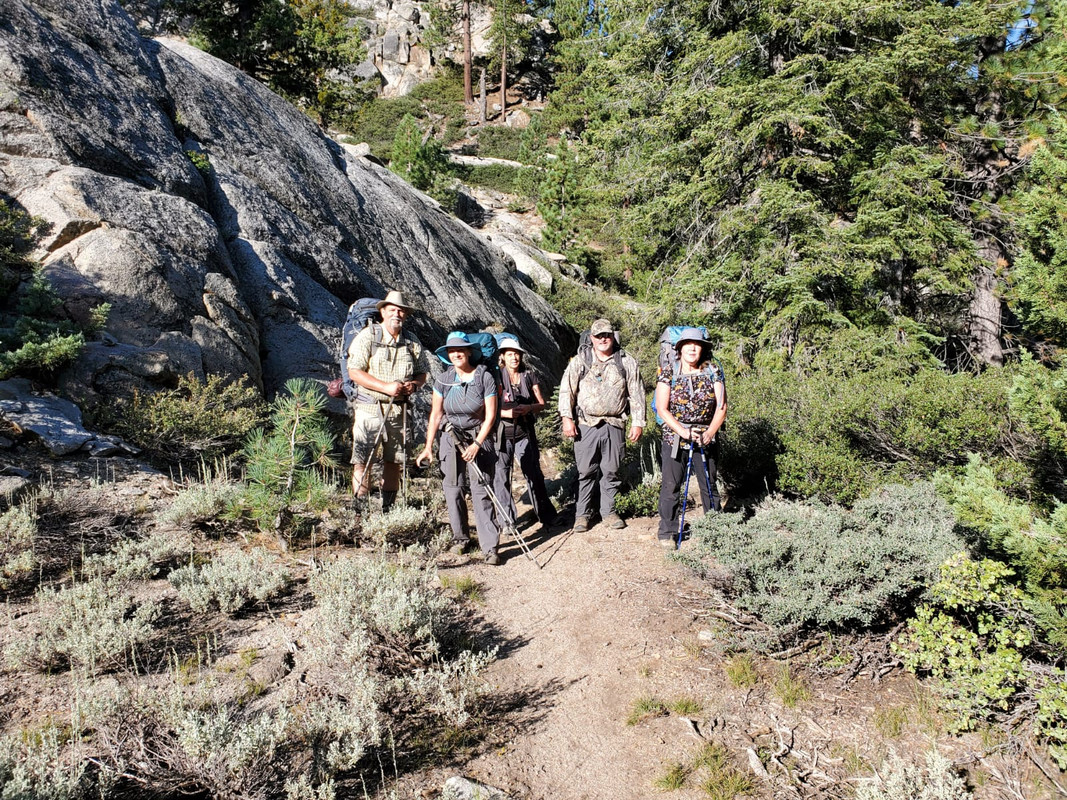 It's kind of funny. Despite the sore butt from the horses, smokey skies, heatwave w/high temps, and changing our itinerary and shortening our trip it was still a great time. I've been doing a weeklong trip with this same group of friends every year for the last 10 or so and we always have an awesome time together. I'm already thinking of what we might do next year and looking forward to it.