To take advantage of a family event that brought me to Tahoe, my best friend from high school and I decided to take a little extra time for a backpacking trip. We'd never done this together.
The plan was a 32-mile through-hike of the Desolation Wilderness, from Echo Lake to Meeks Bay, split into three one-day segments with one additional day to do some day hiking.
Day 0 (7 miles): Since my friend flew directly up from sea level, we decided to set aside his first day at Tahoe for a low-impact day hike to acclimate him. We drove out to Emerald Bay and hiked around the shore. It was absolutely beautiful, and I'd recommend anyone who comes to the area to set aside time to see it.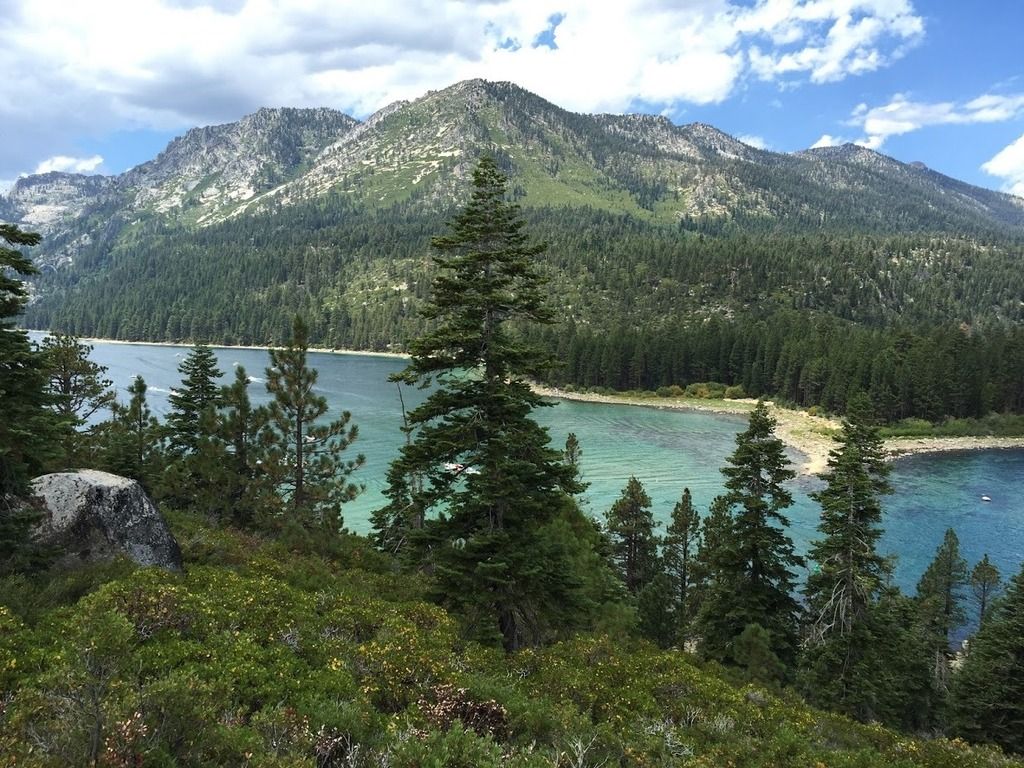 Day 1 (8 miles): We were in a rental car, and realized we could save money if we took a taxi to and from our entry and exit points. I can recommend Elite Taxi. Contrary to it's name, they're quite down-to-earth, and very reasonably priced. They dropped us off at Echo Chalet at around 11. We passed on the water taxi, and had a lovely walk along the lake shore, with beautiful scenery and some interesting views of the different cabins clustered around the lake.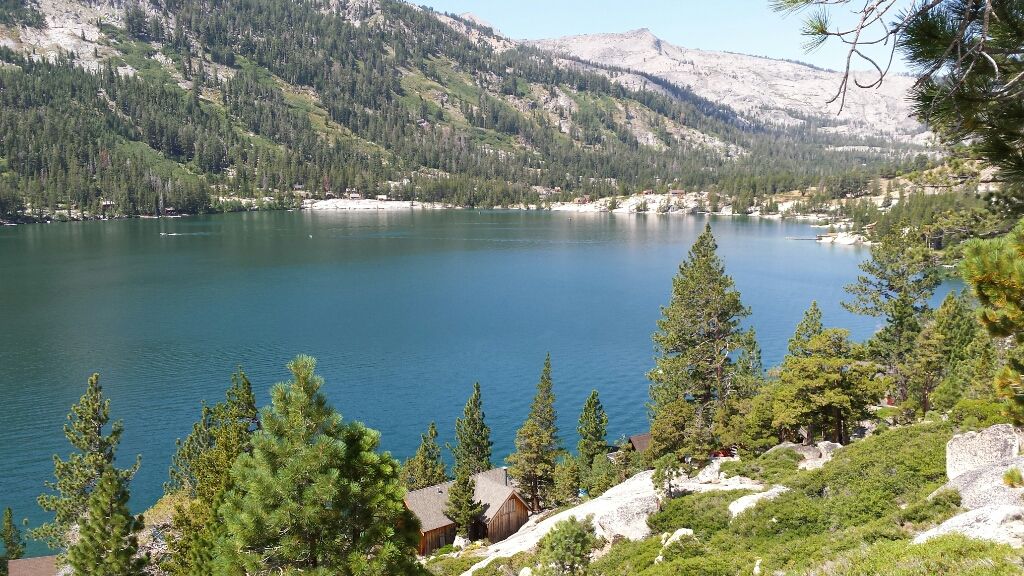 Echo Lake
We got to the end of the lake in a little more than an hour, and then started a gentle ascent that was not terribly tiring. We did bump into a ranger, who checked our permit and assured us that everything we had planned would be "awesome." (Spoiler alert: He was right.)
It didn't take us long to reach the level of Lake Aloha. At the southern end of the lake, the trail initially passes through woods where the various intersections, where some ambiguous signage led us briefly astray. Even so, we reached the lake's shore pretty quickly. The water level was much lower than pictures I've seen, but there were still two people swimming (and complaining about incipient hypothermia).
We were feeling great, and making good time, so we continued on to Heather Lake, at the very edge of the zone listed on our permit.
We did a lot of bushwhacking on the southwest end of Heather Lake, but could only turn up two decent campsites, one of them literally next to the trail (about two feet away) and the other clearly illegal. We picked the former, and were alone for the rest of the night and most of the early morning. In spite of the drought, there was no obvious receding of the water level.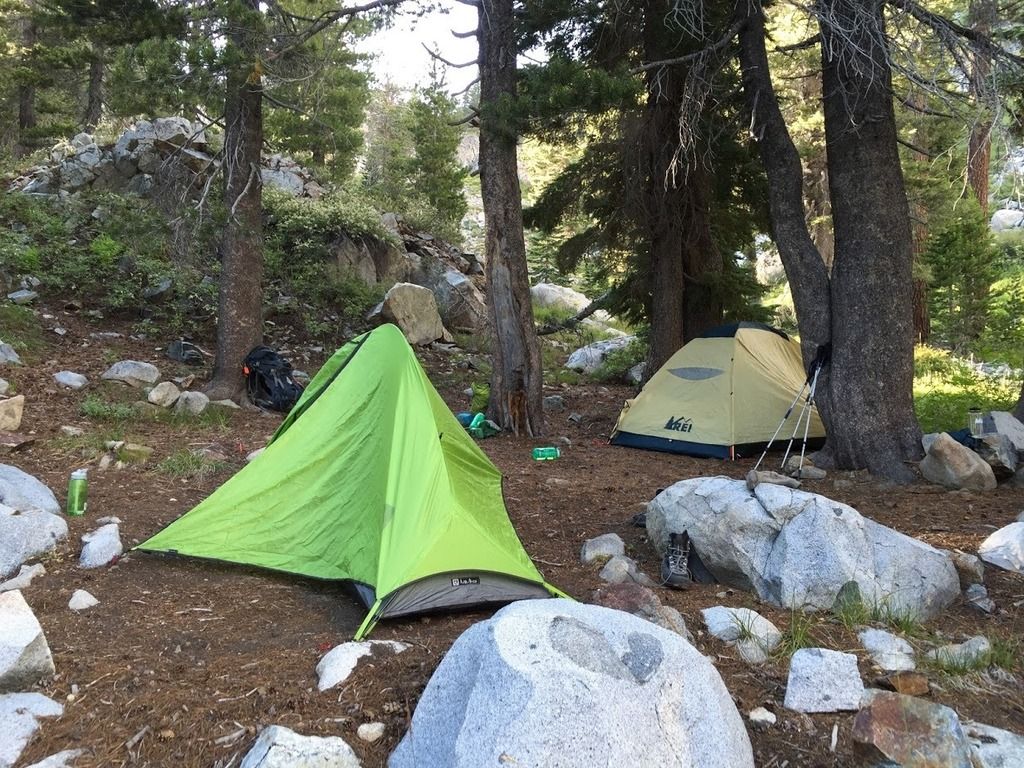 Campsite at Heather Lake -- the trail is in the lower right corner
The sky was a treat. The mountains and low clouds on the horizons initially blocked the moonlight, so we could see a quantity of stars that are rarely visible back east. Afterward, the moon rose with a brightness that cast moonshadows, and sent cascades of light over the ripples on the lake. I saw several meteors, including one so bright that it lit the valley like a camera flash.
Sunset at Heather Lake -- the night photos didn't work
Day 2 (10 miles, to Upper Lake Velma): This promised to be our hardest day, with some 1600 feet of total elevation gain. None of it was terribly steep – just unrelenting. For our first leg, we hiked through to Gilmore Lake, which was absolutely beautiful.
First sight of Gilmore Lake
Here's when trouble started to set in. My friend, who had found a blister in the morning discovered that it was getting worse, and tried some further first aid. We lingered for a bit, enjoying the sun and the view, and then continued upward to Dick's Pass (9400 feet). The continual, albeit not steep, rise was tiring, but bearable. For the downward portion, my friend was visibly flagging, with each step hurting.
Susie Lake in the distance, from the ascent to Dick's Pass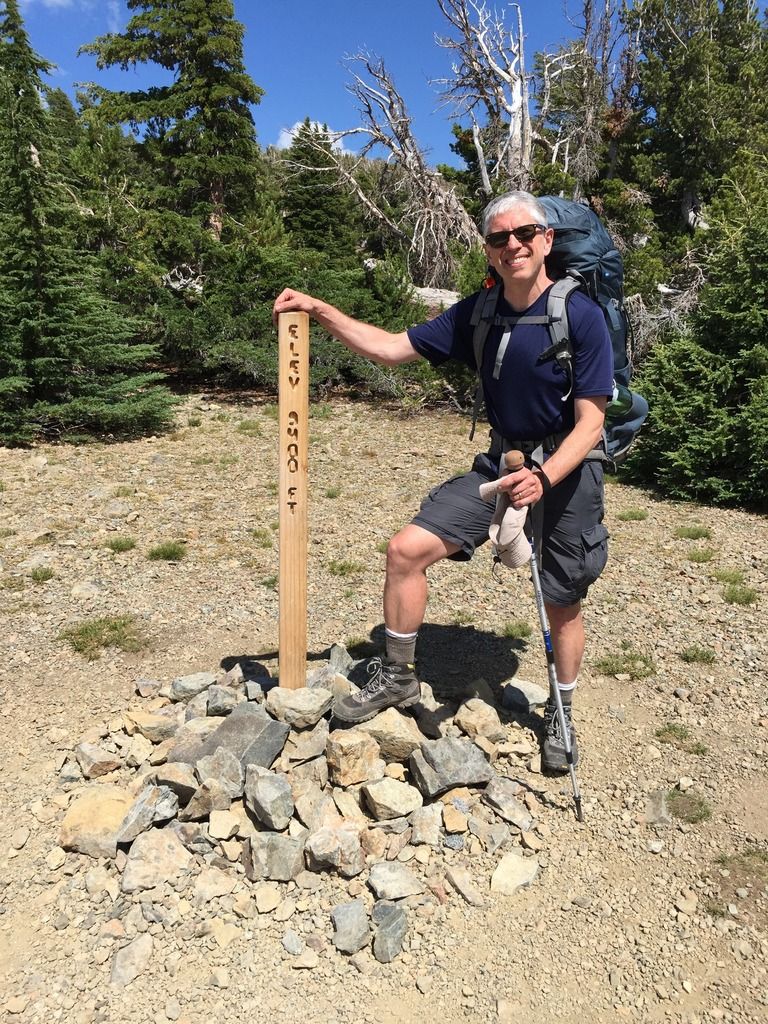 Me at Dick's Pass
We camped, as planned, at Upper Lake Velma, where scenery fatigue hit. If we'd started there, I'd have been ooing and aahing, but since it wasn't as pretty as Aloha, Heather, or Gilmore, both of us agreed it was a bit of a let-down. It also had more people – probably eight or ten hikers camped along the west shore of the lake.
Upper Lake Velma at sunset, with alpenglow
Day 3 (8 miles, to Stony Ridge Lake): One of the nice things about dropping off early from exhaustion while backpacking is that I wake up before sunrise, which was lovely here.
My friend woke up to discover his blisters worse, and on both feet. We briefly debated bailing out, but he decided to push onward, albeit more slowly so that he could place his feet to minimize hitting the blisters. Even so, there were many times I heard him grunt as he hit wrong. He apologized for making me go so slowly, but it actually gave me more time to enjoy the scenery, which was stunning. Once we turned off the PCT, the trail got narrower. The climb to Phipps Pass wasn't too hard. It was a bit steep on the down side, and quite rocky, but still lovely views.
He gave out a Stony Ridge Lake, where we had little trouble finding a campsite. Like the first night, we were alone, and treated to a stunning variety of stars and moon.
Day 4 (6 miles to Meeks Bay) My friend's blisters weren't any worse, so we set off at the same reduced pace as before. We passed three lakes, with Lake Genevieve the last. There was a lovely clearing right on its shores, where we stopped for lunch and a chat with some day hikers.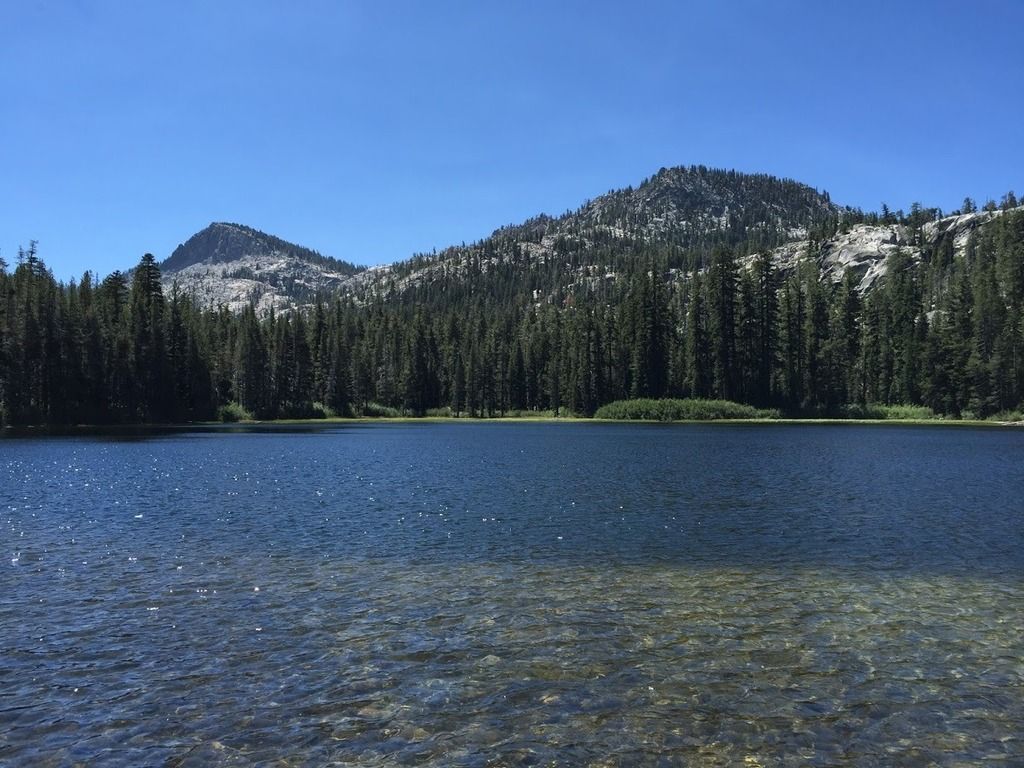 The trail then took us out of the wilderness area to a terrain of ordinary forests. We exited the trail at Meeks Bay, only to find that we had no cell service to call the taxi. Fortunately, we hiked a bit further to the Meeks Bay Resort (much less fancy than it sounds) where we were able to get reception. Friendly Elite Taxi picked us up and took us back to South Lake Tahoe.
Some closing thoughts: Previous to this trip, I'd done all of my hiking on the East Coast. I planned the trip figuring I could do my average 12-15 miles per day. I did not account for the fact that there's so much more to see that I stopped much more frequently than usual to soak up the sights. Another big difference is that the trails in Desolation are much easier to follow. The East Coast trails I've used generally go through forests, where underbrush and blowing leaves can often obscure the trail, and leave me searching for blazes. Although there was almost no marking of trails in Desolation, we rarely found ourselves lost.