SSSdave wrote: In Mineral King that has been set at 9,000 feet and I can speculate why that might be. First in the east part of the valley, there isn't much forest above 9,000 feet. Second a couple areas to the west above the road have recently burned that probably has them very woried because the forest there is extremely dense for miles with very poor access for fire fighting in case it does catch on fire. In fact the whole drive up from Three Rivers on the long very winding road would go up in a horrible inferno if it ever catches fire during dry late summer conditions. And that would be an especially horrible disaster because it is a very special forest with considerable numbers of scattered old growth giant sequoias groves. I for one feel the park service should go the extra distance to help preserve those precious groves.
Okay, east of the valley they should say "No fires above 9,000'" then.
The only areas I saw burned last year were on the NE side of the road and one fire seemed to have burned from MK road towards Timber Gap.
Yes, the entire forest and brush covered hillsides along MK road are susceptible to fire whether during a drought year or not. That is a ridiculous excuse to use. If it is THAT risky, why not just take the next step and ban human intrusion. The "old growth" forests there have already been through numerous fires and they survive, it is the younger, more dense populations of trees that are decimated by fire.
That whole argument really bothers me...Really, it is the friggin' forest, fires might happen. Maybe, for the safety of everybody, we shouldn't let people into the forest...and you know that some in positions of authority would like nothing better than to restrict entry. It is the old frog and boiling water analogy and by accepting these stupid regulations under the premise that they are keeping us safe and protecting the forest we are playing right into their hands. Look at this picture of Eagle Lake and tell me why fires should be banned here. That forest has TONS of downed wood and there is basically a zero percent chance of a large fire starting there and spreading.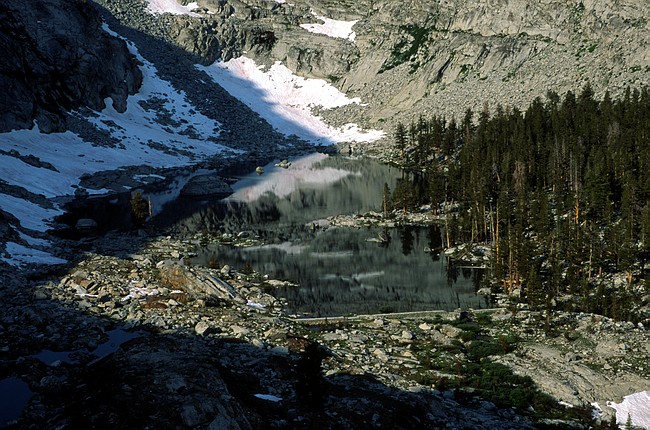 [/img]