in the glorious, pre-pandemic days of august 2019, we did "the maia special" -- a route borrowed almost verbatim from maia's excellent 2018 trip report (
https://plutoniclove.com/2018/07/07/tam ... onal-park/
).
it is roughly: the high sierra trail to tamarack lake, then backtrack up the elizabeth pass trail until cutting cross country to lonely lake, pterodactyl pass, and on to the tablelands.
my full report with the requisite 2,500 extra photos is here:
https://badmountain.org/tamarack-lonely ... tablelands
some notes and photos below:
we did this in mid august of 2019 -- a high snow year. despite it being late summer, we spent a fair amount of time amongst mosquitos and snow. days were uniformly blue and nights surprisingly warm.
we started from wolverton after a pleasant night at lodgepole. the permit ranger said that mosquitos in the tablelands were at peak insanity the previous week. not good news! but we stepped bravely into the breach anyway.
i ran into my first sierra bear near 9 mile on the HST -- an adolescent lounging near the trail. it scampered off with incident. we then saw another bear that evening while camped at buck creek. it was traversing the incredibly steep hillside across the creek, seemingly without a care in the world. 

the "high trail" above bearpaw was surprisingly rugged for a "real" trail -- steep, sandy, overgrown. of course, being the high trail, it had higher views as well. for some reason, buck creek to tamarack lake was the longest 5 mile hike of my life -- i'm not sure why.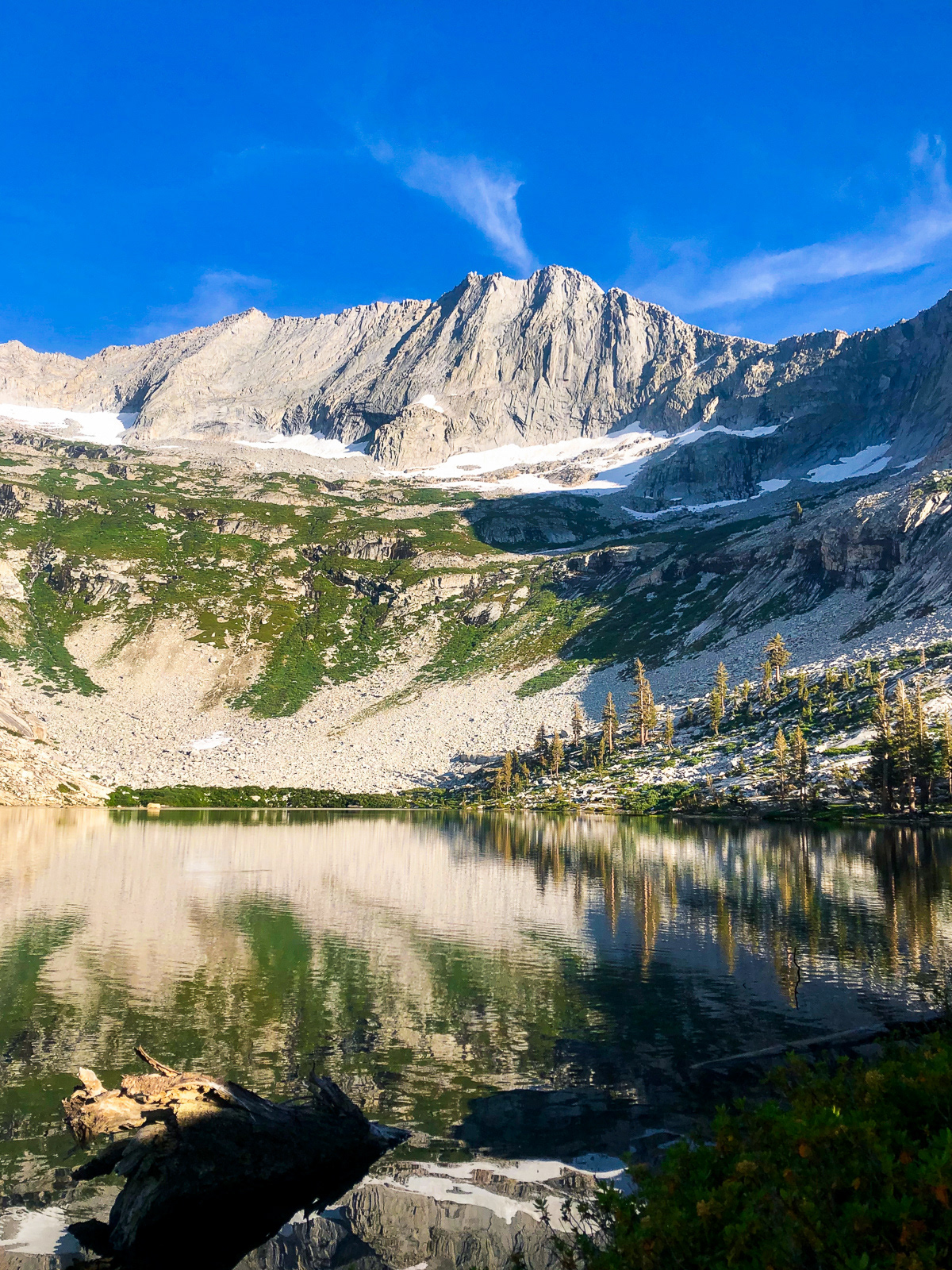 tamarack was lovely, and the two (or more?) great blue heron's in residence did not disappoint: first carpet bombing the lake with poop, then putting on a grand show for us by fishing at the lake's outlet near dusk.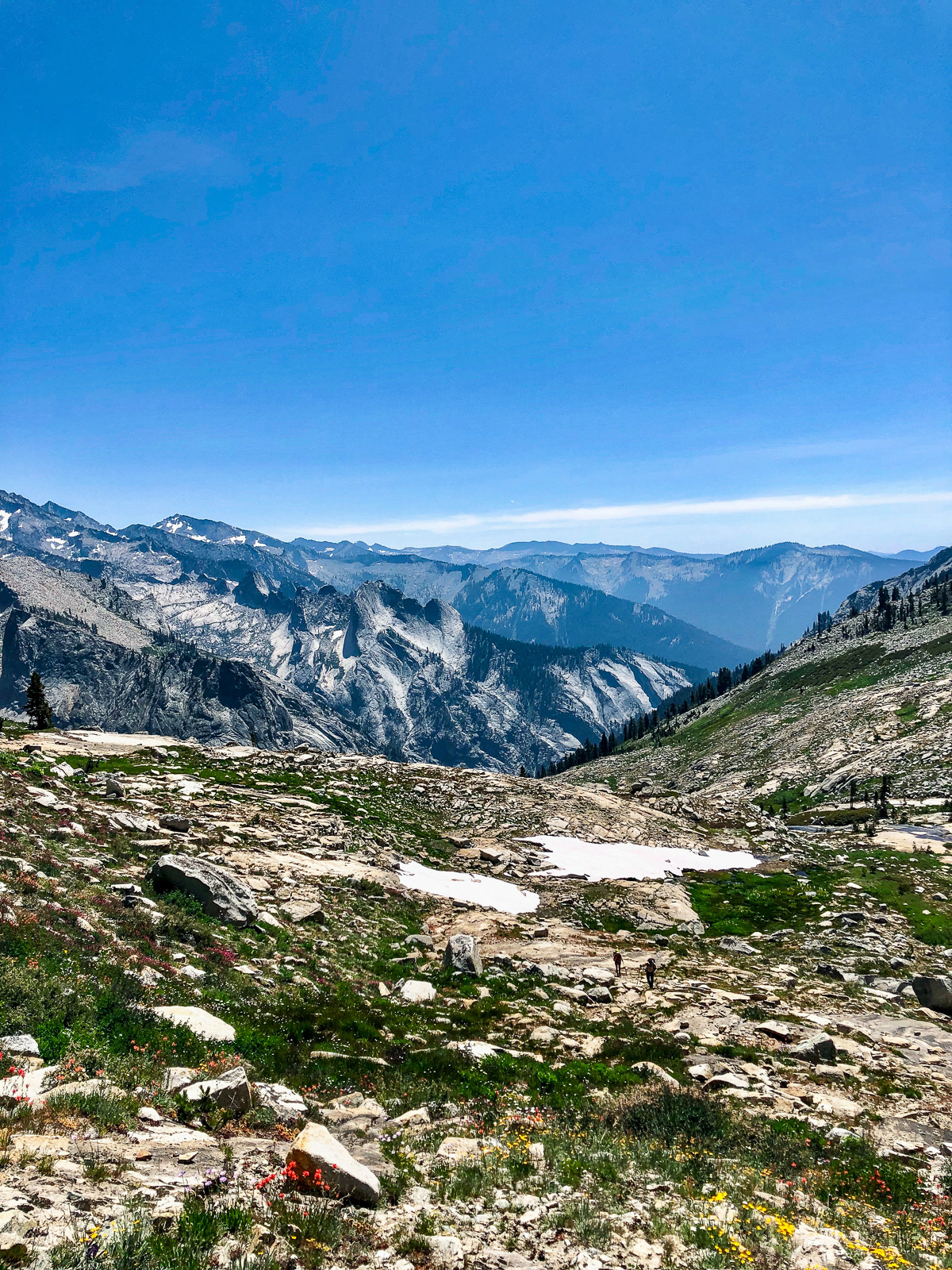 after retracing some steps and dispatching with the hot, eroded switchbacks of the lower elizabeth pass trail, we headed off trail at lonely lake's outlet. the climb was glorious, if unrelenting. the wildflowers were bananas (for late summer) and the route finding easy. (there are two tiny people in this photo.)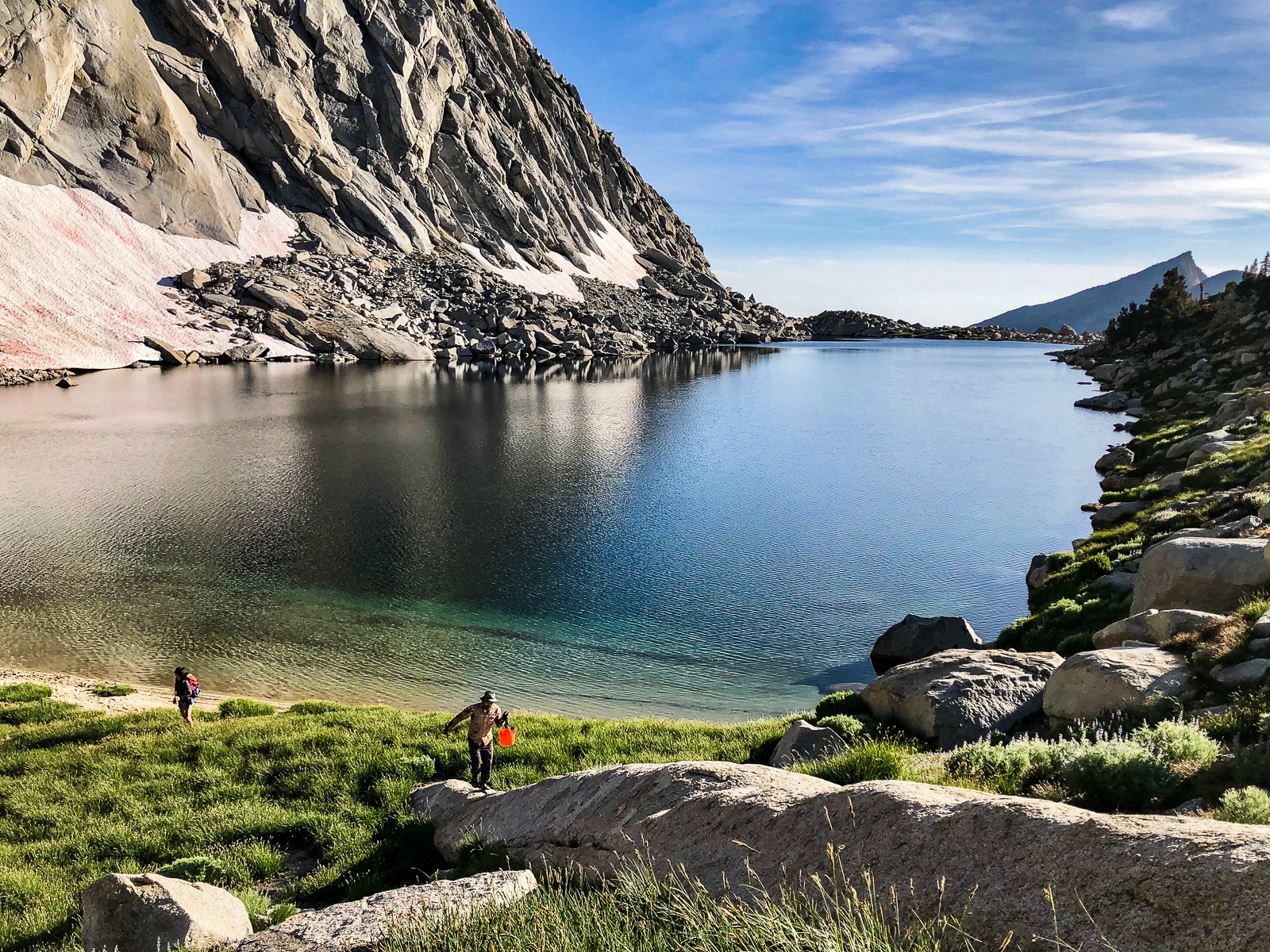 the lake itself is unparalleled: exceptionally sited in an angular granitic landscape that i'd almost call stylish? does that make sense to anyone?! an enthusiastic 10/10 to whoever coded lonely lake and environs into the simulation.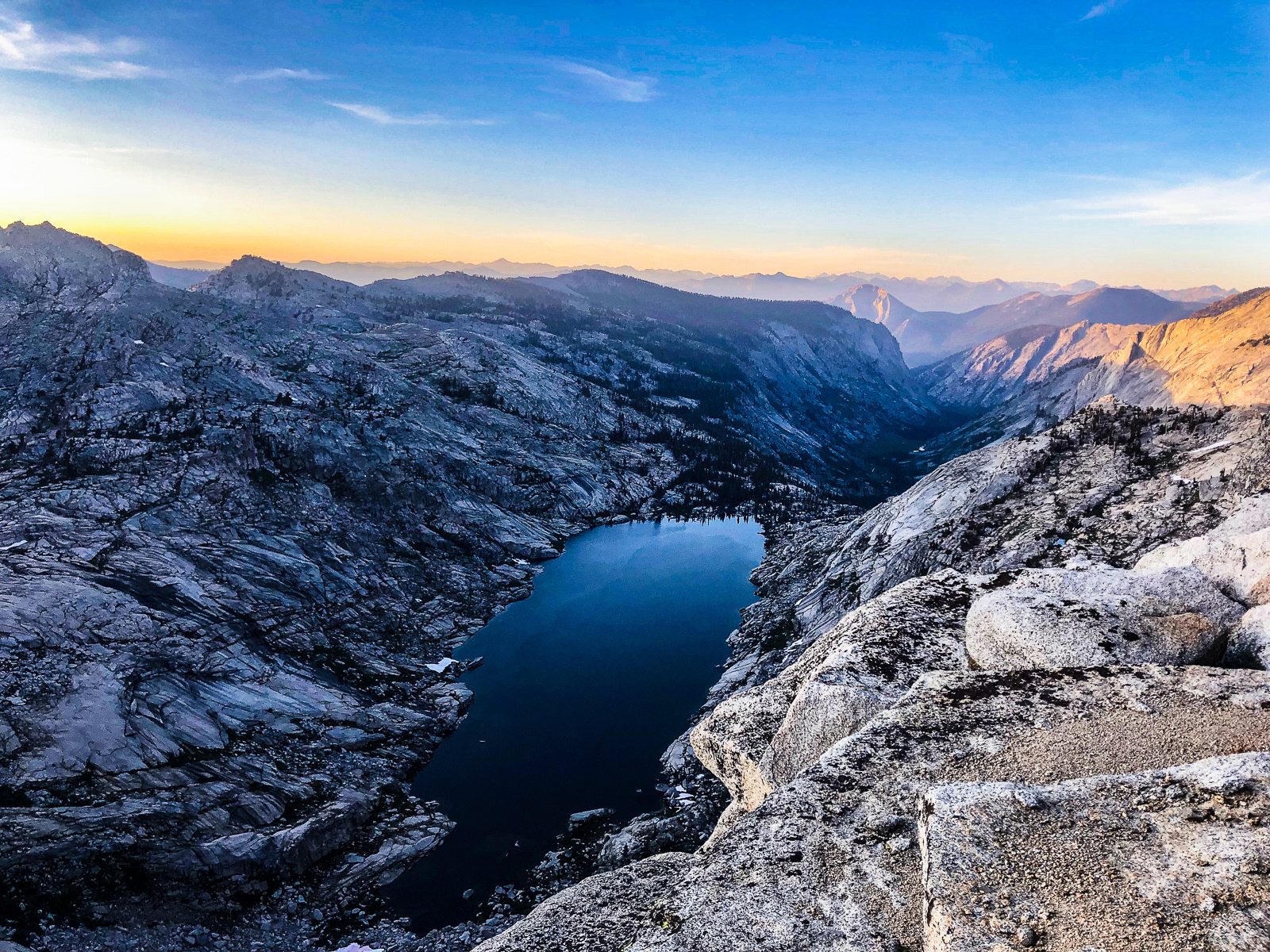 we went for a dip and took a brief sunset hike up to the formidable cliffs overlooking big bird lake.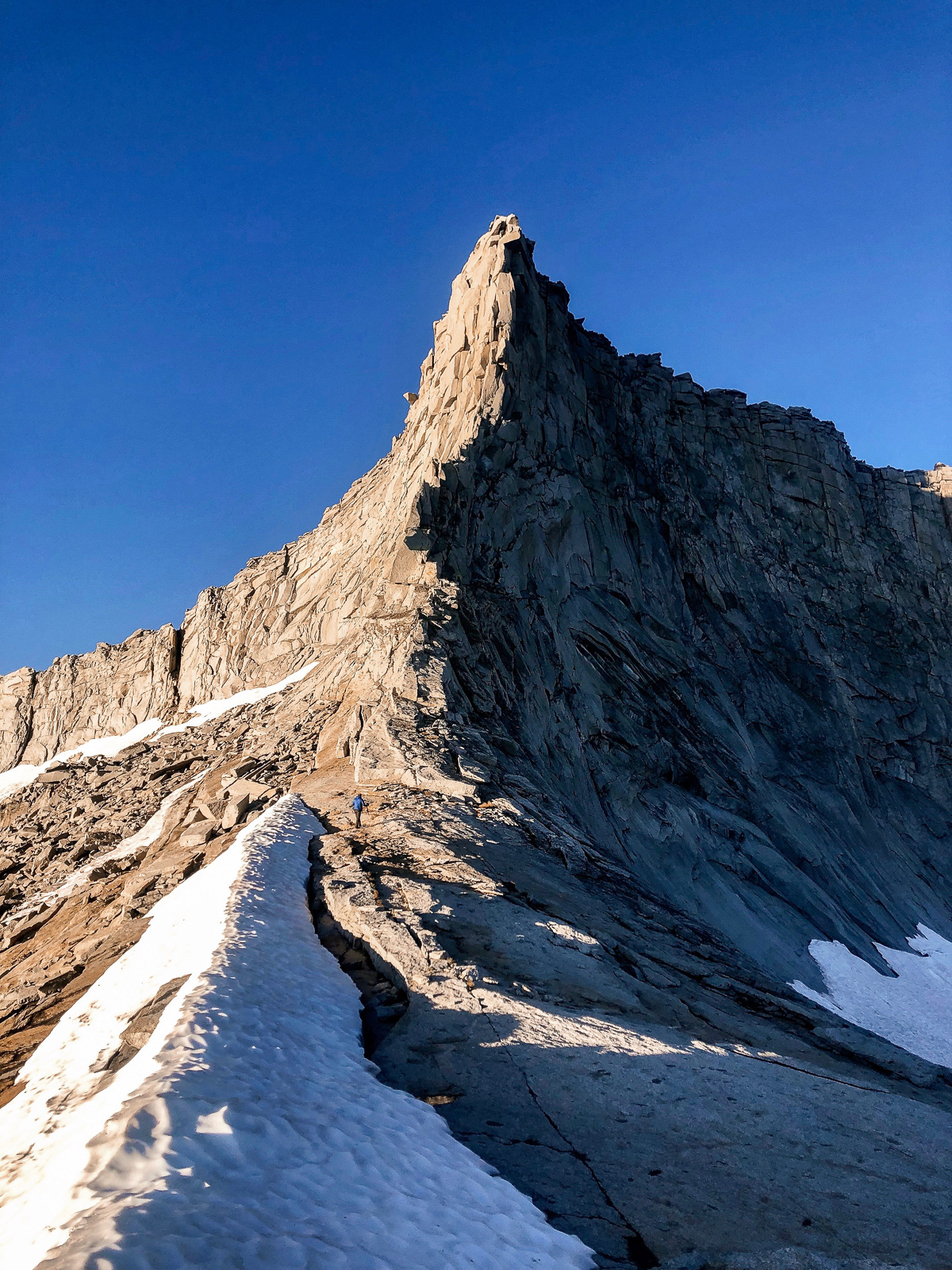 the following morning we detoured over to horn col, which is certainly worth a trip even if you aren't headed east.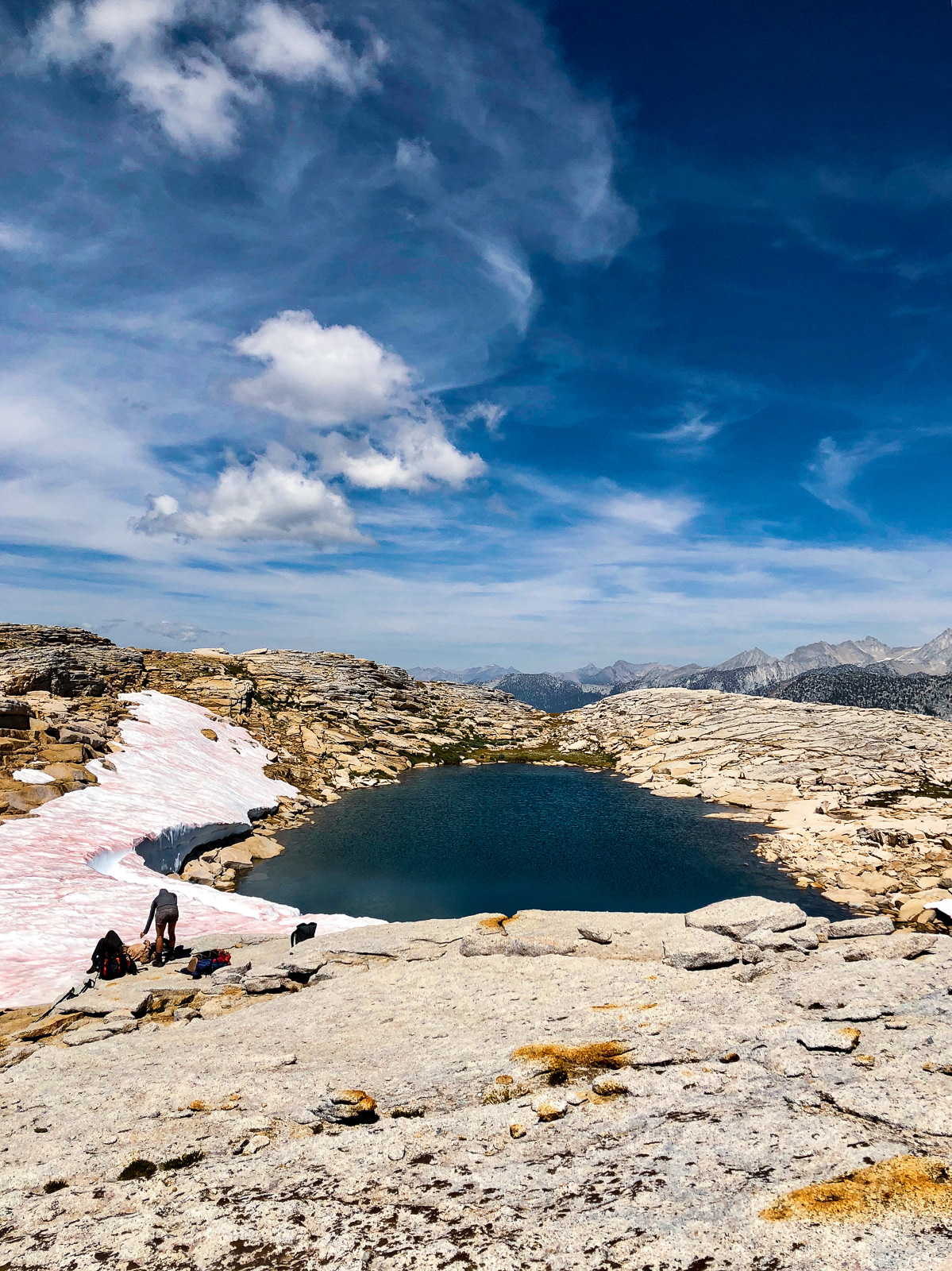 contouring the other way around the giant bowl of "lonely basin" was fun and pterodactyl pass is one of the easier xc passes i've seen. from there we headed north over aging watermelon snow to lake 11,200 which is another impressive, personality-filled lake: it feels like you're at the very roof of the world.
the snow flanking its southern and western shores was still ~15 feet thick.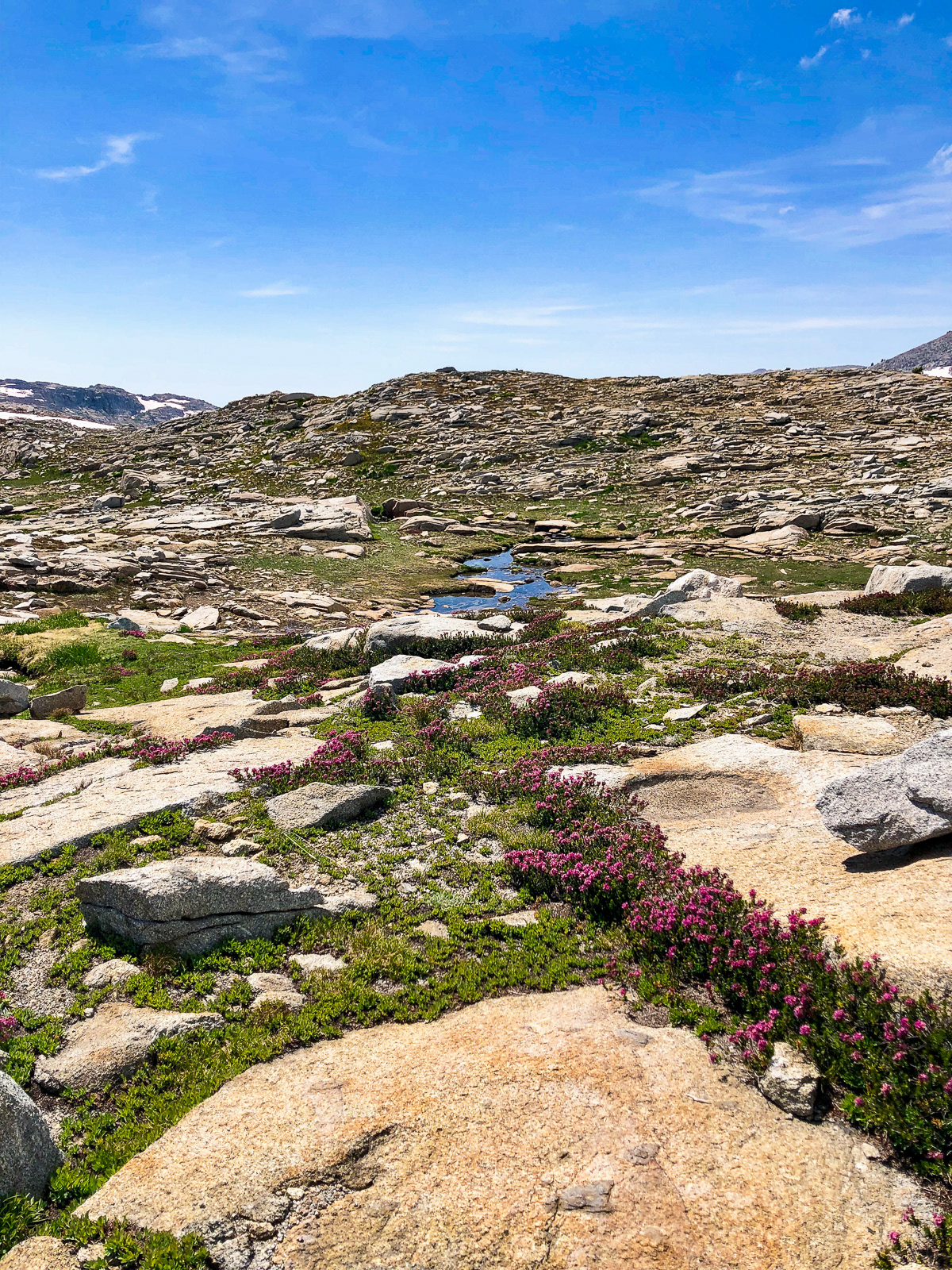 the mosquitos in the tablelands were indeed horrendous -- i assume it has something to do with the long lingering snow on relatively flat terrain? after a brief stop at 11,200 we kept it moving, slogging through waterlogged, flower strewn meadows heading towards table meadows. 
my lack of sleep lead to a few dumb (albeit inconsequential) navigational errors en route. for those used to the fairly obvious macro topography of the high sierra, this part of the tablelands feels a bit like a sheet of blank, undifferentiated paper.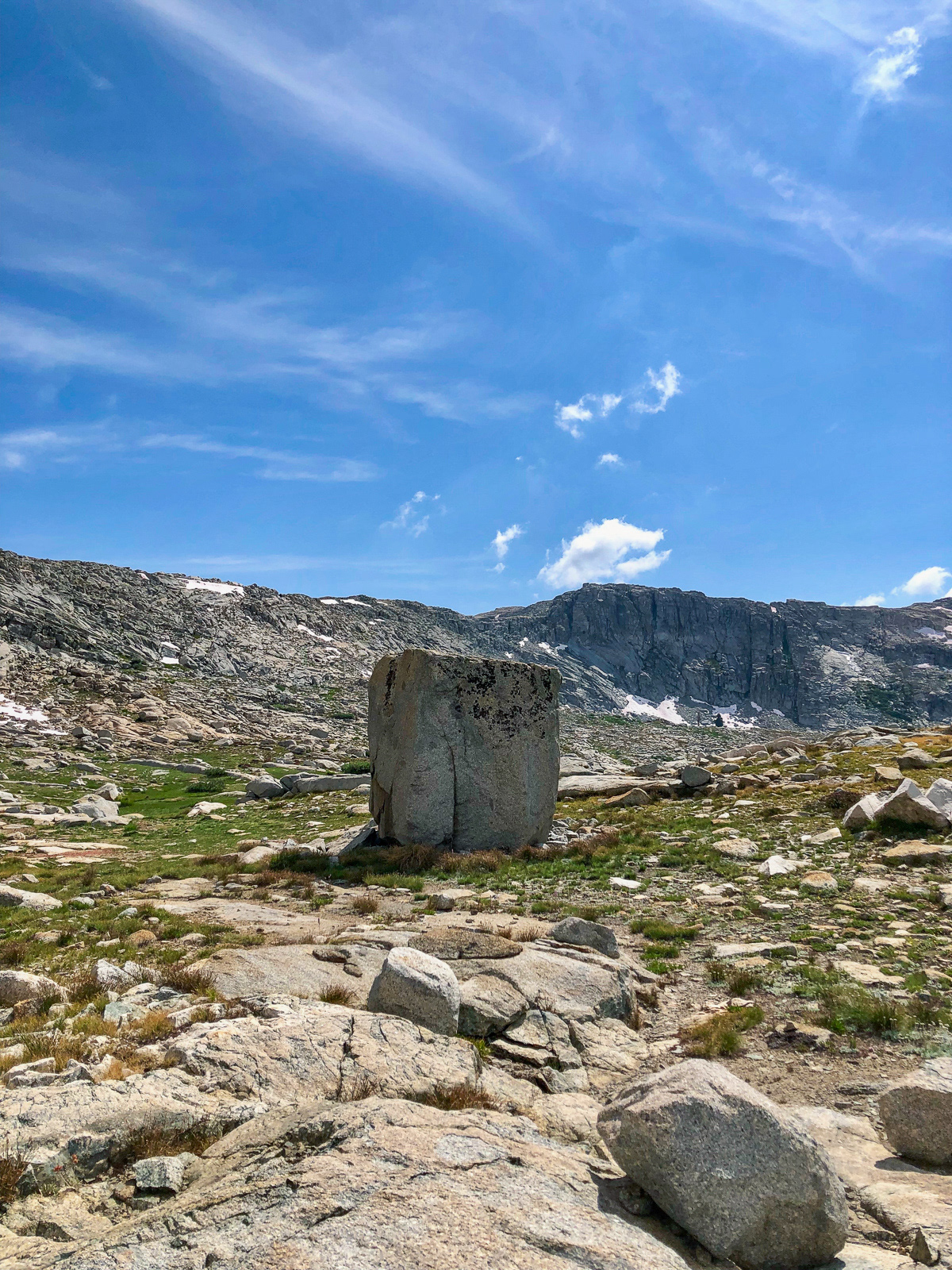 apropos of nothing, how about this weird rock?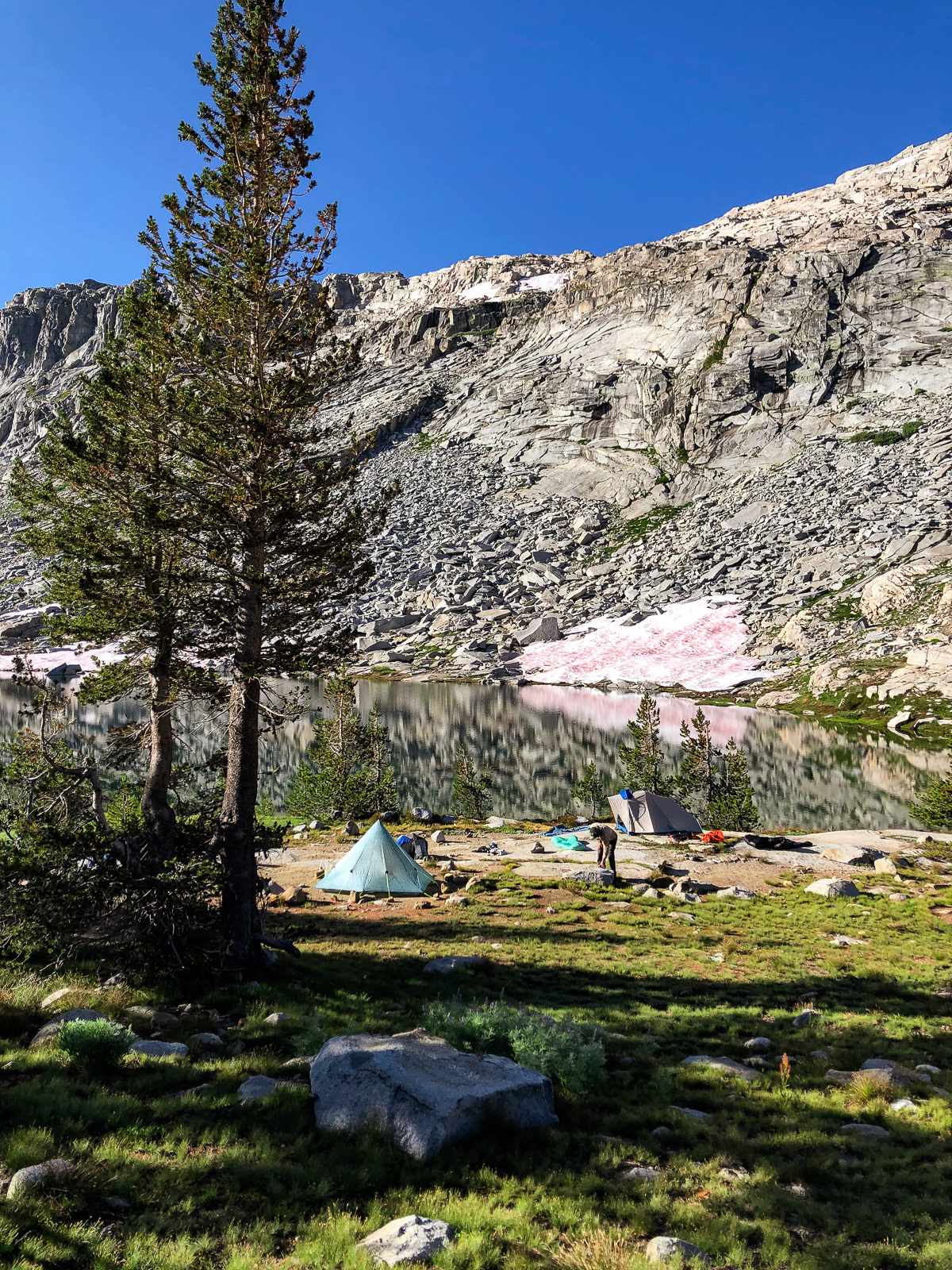 table meadows lake was quite nice, especially the nearby views of table meadows. strangely, the only campsite we could find was right on the lake: condensation city.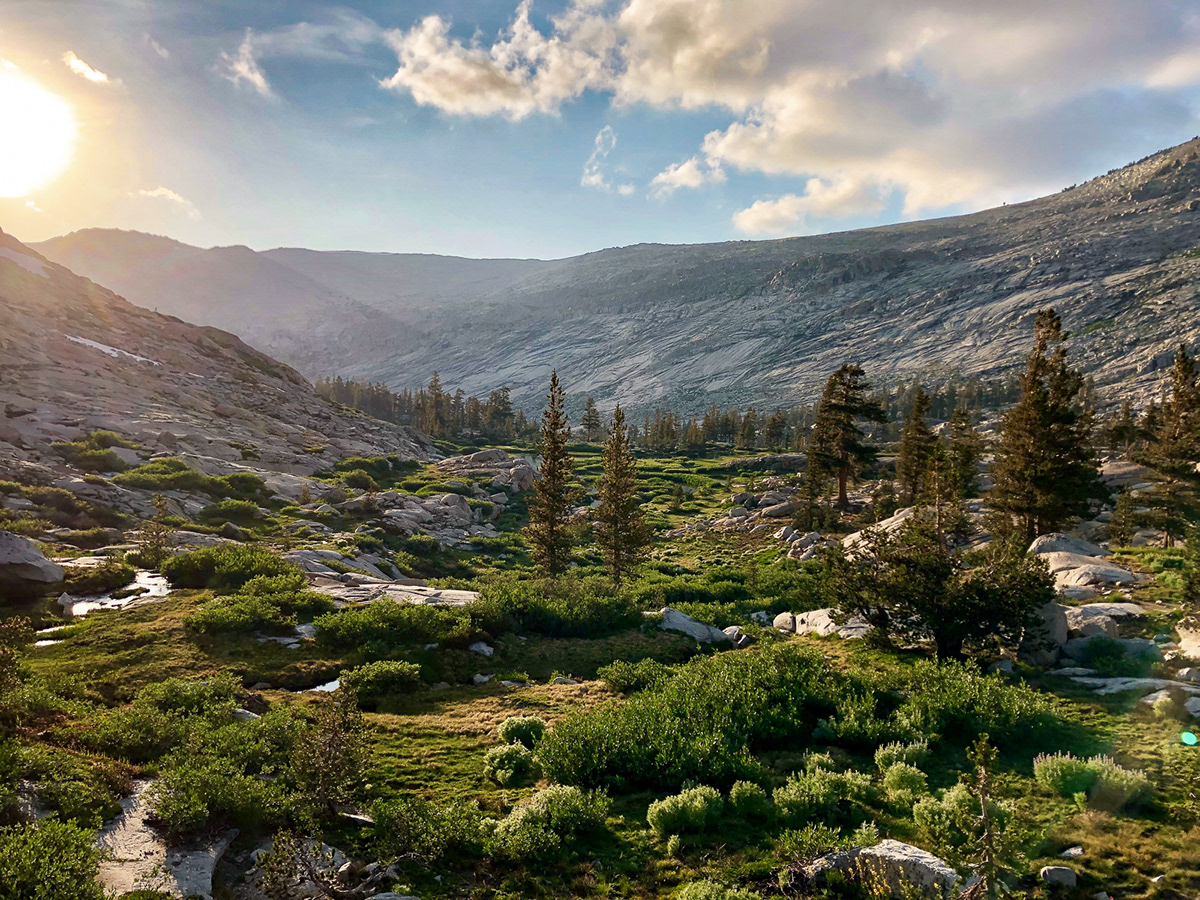 the stroll through table meadows on our final morning was an unexpected highlight (although this photo is from the evening before).
eventually, we traversed down the little ledge system north of pear and were welcomed back to reality by an infinite stream of day hikers. the watchtower is an exceptional structure, but otherwise the final few miles were the typical slog as body and mind are slowly sucked back into the regular old world of gasoline, iphones and laundry detergent.